Biafra: Nnamdi Kanu To Hold World Press Conference Over Jubril, See Date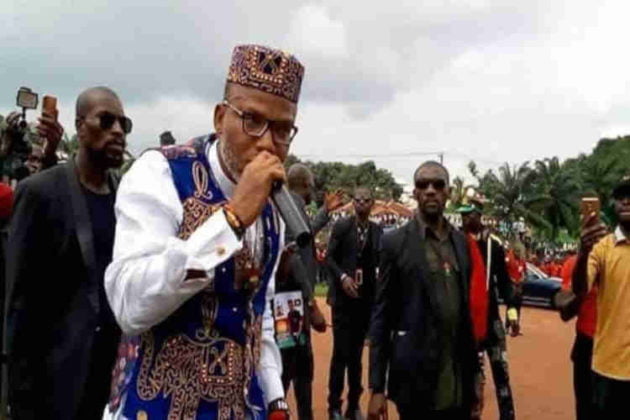 The leader of the outlawed Indigenous People of Biafra (IPOB), Nnamdi Kanu, says he will hold a world press conference on Thursday, February 14 to bring Jubril Aminu Al-Sudanni's narrative to an end.
Naija News reports that Kanu made this statement during a live broadcast via Radio Biafra in London, United Kingdom on Saturday, February 9.
The secessionist leader said this became imperative because of those who question his allegations that President Muhammadu Buhari is "dead".
Kanu said: "I am not asking for anything else in life, all I want to see is Biafra after that then I can die.
"For those talking nonsense about us, on Thursday, I will bury what is left of Jubril Aminu Al-Sudanni.
"I will have a world press conference here in London and I will ask sensible white people if that thing there is the dead Buhari or not. All of you know that Buhari is dead, everybody knows that very well but because they don't want IPOB to have the credit for it that is why they all ganged up, conspired with Yoruba media. The same PDP, they know that Buhari is dead but they don't want to talk about it why because they know if they do, the zoo will collapse and Biafra will come so they don't want it", Kanu said.
Meanwhile, Naija News reports that since Kanu resurfaced in Israel last year October, he has been alleging that President Buhari is dead and has since been replaced by Jubril from Sudan, an allegation the President debunked last year.
Kanu is leading a group seeking secession from Nigeria. The group has since been proscribed by the Nigerian government.