No Town Captured By Boko Haram– Army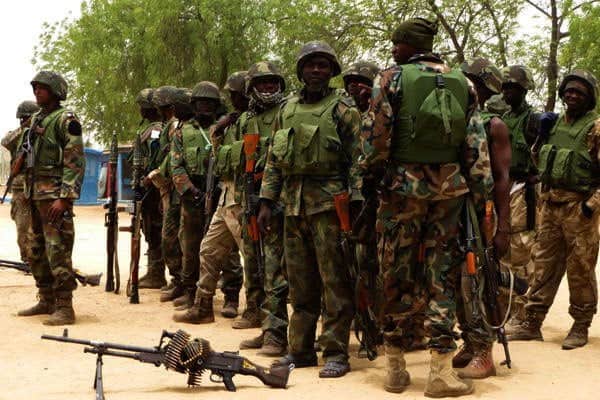 The Nigerian Army, the Operation Lafiya Dole theatre command has debunked the rumours making the rounds on the internet that five towns have been taken over by the Boko Haram terrorist goup.
The fake  news report which surfaced online in the wake of Tuesday, suggested that the five communities were claimed from Adamawa state.
In a statement issued by an army spokesperson, Col. Onyema Nwachukwu, the command said the attention of troops had been drawn to an attack by the Boko Haram terrorists on Shuwa town.
The military maintained that no town in neither Adamawa, Borno, or Yobe State was captured by the terrorists, saying that any report saying otherwise should be disregarded.
"The attention of Theatre Command Operation LAFIYA DOLE has been drawn to a misleading news story on Sahara Reporters website, posted on 4th February 2019, alleging that Boko Haram terrorists have taken over five towns in Adamawa State. This is not true.
"Contrary to Sahara Reporters' claims in that online story, the Headquarters Theatre Command wishes to inform the general public that the said publication is untrue and a far cry from the reality on ground in Adamawa state.
"Categorically, no town in Adamawa, Borno or Yobe state is under the control of the insurgents. Unfortunately, the alarming publication has generated undue panic amongst the general public and therefore needs to be addressed.
"In straightening the records, troops were alerted to an attack on Shuwa by Boko Haram terrorists who had infiltrated the village through Karchinga on a looting mission, to which the troops of 143 Battalion swiftly responded by moblising themselves to Shuwa village, where they fiercely engaged the insurgents in combat and successfully repelled the attack and curtailed the incursion," the statement read in part.
The Command confirmed the death of three civilians and maintained that troops of Battalion are still on ground o ensure that peace is maintained.
"The troops, who recovered one Hand Grenade and 6 rounds of Anti Aircraft ammunition after the encounter are currently holding grounds in Shuwa village, while some elements of the Battalion are exploiting further in pursuit of the fleeing insurgents.
"Sadly, before the arrival of troops to the location, the insurgents had killed 3 persons, looted and torched a shop, a health care centre and a local market," the statement read.
Source: Naija News