Boko Haram Attacks Nigerian Military Bases Again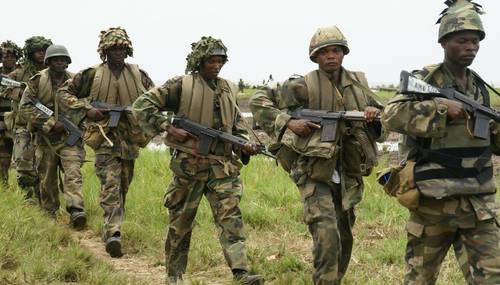 Boko Haram's jihadists attacked two military bases in  Borno State on Saturday night, injuring six soldiers, two military sources revealed on Sunday.
These attacks are the latest against military targets in the region, while security has become a major issue in the electoral campaign ahead of the next general election.
President Muhammadu Buhari, who came to power in 2015 with the commitment to end the Islamist insurgency, is seeking a second term in the 16 February presidential election.
Earlier Sunday, Nigerian soldiers repelled an attack by members of the Boko Haram faction led by Abubakar Shekau in the city of Pulka, in Gwoza district, along the Cameroonian border.
"The terrorists launched their attack around midnight and the soldiers engaged a 30-minute fight forcing them to withdraw," said a military officer whose words were confirmed by another Nigerian officer.
The members of Boko Haram wanted to attack and loot the city after invading the military base, said one of these officers on condition of anonymity.
On Saturday evening, members of the same Boko Haram faction attacked another military base in the village of Logomani, near the town of Gamboru, causing clashes that left six soldiers wounded.
"The troops were attacked by Boko Haram terrorists, who came aboard four trucks with guns at around 1730 GMT," the second officer told Nigeria News.
"Six soldiers were injured by bomb fragments," he said.
Boko Haram has been steadily attacking military bases in the north-east since July, killing tens or even hundreds of people.
The jihadist insurgency, which began in Nigeria in 2009, killed at least 27,000 people and caused a serious humanitarian crisis with 1.8 million displaced.
Download NAIJA NEWS app: