Atiku, Buhari Shun 2019 Presidential Debate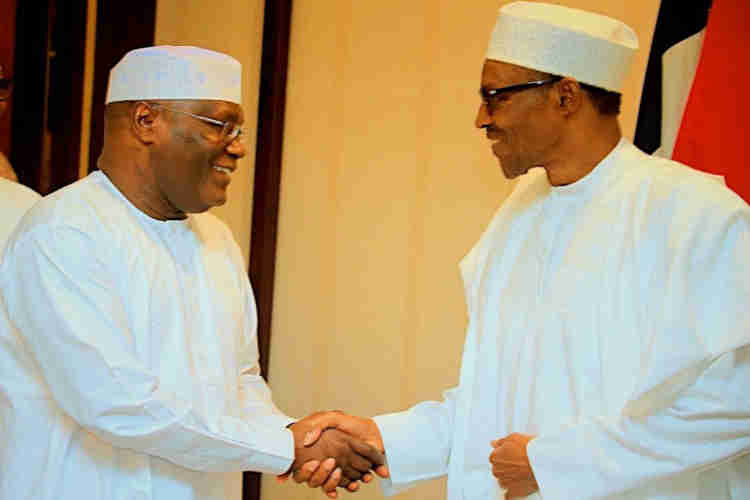 President Muhammadu Buhari and Atiku Abubakar have shunned the ongoing presidential debate organised by the Nigeria Elections Debate Group (NEDG) and the Broadcasting Organisations of Nigeria (BON).
Naija News reports that the Presidential debate is taking place at the Transcorp Hilton Hotel in Abuja, Nigeria's capital, the same venue where the vice-presidential debate held on Friday, December 14, 2018.
The debate is currently being transmitted live on all BON member stations and its affiliates and streamed live on all social media platforms.
President Buhari is the candidate of the All Progressives Congress (APC) while Abubakar, a former Vice President is the candidate of the Peoples Democratic Party (PDP).
Present at the venue of the debate are Oby Ezekwesili, a former Education Minister, who is the candidate of the ACPN, Kingsley Moghalu, a former Deputy Governor of the Central Bank of Nigeria (CBN), the candidate of the YPP and Fela Durotoye who is the candidate of the ANN.
This online news platform understands that Atiku Showed up at the venue but decided not to debate due to the absence of his main challenger, President Buhari.
The action, Naija News can report, affirms what a member of the Atiku Abubakar campaign team, Steve Oliyide had told this platform earlier.
Naija News reports that the debate offers the platform for the presidential candidates to reveal to Nigerians their plans for the country as the nation prepares for the general elections in February and March.