Nigerians React As Buhari Calls Ogboru "Presidential Candidate"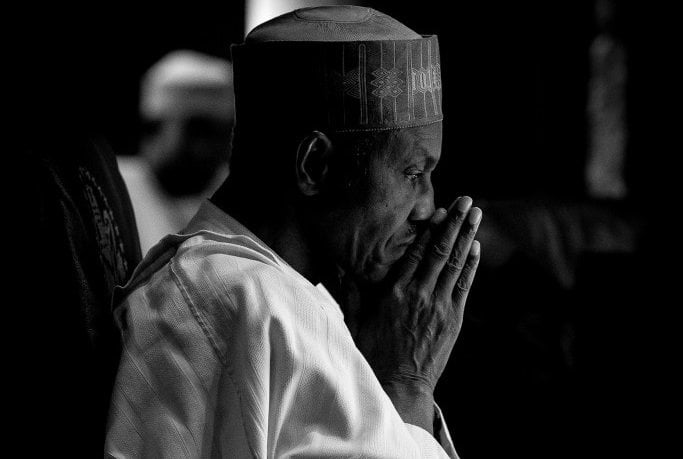 A storm of reactions by Nigerians has greeted President Muhammadu Buhari's gaffe during the presidential rally in Warri, Delta state, where he referred to Great Ogboru, the state governorship candidate of the All Progressives Congress (APC) as "Presidential candidate".
Naija News reports that President Buhari was to hand over the party's flag to Ogboru who is the Delta State APC governorship candidate rather the President said: "I am handing over this flag of honour to our presidential candidate."
A man on the stage to his left promptly corrected the President, saying "gubernatorial", but Buhari responded with "to our senatorial candidate".
Again, the man corrected Buhari, saying "gubernatorial" and this time, the President said "governortorial candidate".
Moments after the video of the pronouncement went viral, Nigerians took to the micro-blogging site, Twitter to react to the President's gaffe.
Naija News captured some of the reactions below…
Me – I am hand over vhis flag with honor to our Presidential Candidate.

Crowd – Nooo

Me – Senatorial Candidate

Crowd – Nooo

Ogboru – (whispering) Governor, Governor!!

Me – Gubernatorial Candidate.

This is why I hate Southerners. Why didn't Ogboru open his big mouth since? pic.twitter.com/Skw9eGMiq7

— Parosident Buhari (@TheMbuhari) January 17, 2019
What we witnessed at Warri Delta State as Buhari presented APC flag to Ogboru is actually the true state of things at Aso Rock Villa, Buhari doesn't know what's going on with governance.

— OONI OF ABUJA (@Deji_OoniAbj) January 17, 2019
Buhari refers to APC Delta Gubernatorial Candidate, Great Ogboru, as presidential candidate, then senatorial candidate before finally getting it right.

This man is spent…Make e go rest.#BuhariGaffes pic.twitter.com/fuUh4vULiG

— Sola Atikulated Kuti (@SKSolaKuti) January 17, 2019
@MBuhari calls Ogboru Presidential candidate of APC in Warri

We warned people in 2015 after the 'Osibande' incident, they said it was a one off

Add this to the multiple unpardonable gaffes at yesterday's programme 'The Candidate' and tell me why we should reelect this man pic.twitter.com/tkmbJ0QNLj

— Collins (@TrueNaijaGuy) January 17, 2019
Shocking! APC Presidential candidate, President Buhari hands over flag to another presidential candidate, Ogboru in Warri , Delta State. ?#BuhariNeedsRest
The stress is too much for him.?

— Simeon (@simmeonii) January 17, 2019
Breaking: Great Ogboru is now the new APC presidential candidate according to @MBuhari in Warri today.

Congratulations Great Ogboru ????

— Gomez (@Gomez_Nsude) January 17, 2019
Breaking: @APCNigeria gets new presidential flagbearer, in the person of Great Ogboru of Delta state. He was given the flag by @MBuhari

What a time to be alive….????

Watch video
????????#GNWA pic.twitter.com/f6iZ3nwxin

— #NONSO (@midasnonso) January 17, 2019
Dear @tasiu_ladani,

I understand your pain. The @OfficialAPCNg's main campaign tool has just gone up in smoke. Accept my sympathies. Meanwhile, has @MBuhari decided if he is the Presidential candidate of the APC or is he still confusing himself to Great Ogboru? #AtikuInAmerica pic.twitter.com/jQsXTqsKd2

— Reno Omokri (@renoomokri) January 17, 2019
Dementia confirmed!

Buhari today in Warri said he's handing over the party's flag to "APC presidential candidate", Great Ogboru.

So Buhari cannot differentiate between a Governorship and a presidential candidate?

Make una allow this old man go rest, una no gree. Greedy people! pic.twitter.com/DrJK0kuz9h

— May Ubeku (@Maybeks) January 17, 2019
Buhari to Ogboru..
I am handing over this flag of honor to the Presidential Candidate of our Party

Is ogboru the presidential candidate of APC ? ???

Yours sincerely Mohammodu Buhari doesn't know he is the presidential candidate of APC
? ? ? ? ? ? #Shameofanation

— Modebolanle (@modebolanle) January 17, 2019
I had no idea that I was contesting against Ogboru of Delta state. ?

— Atiku Abubakar ❁ (@NotAtiku) January 17, 2019
Following his poor performance at #NGCandidates, @ Delta again

Buhari to ogboru @ warri: Ha handofa vhis flag wif honor to haa Presidential Candidate,Senatorial Candidatate, aha governatorial Candidate

Me: Dear Lord whatever we have done to deserve this man, please forgive us pic.twitter.com/VFrvN8oDVy

— You're on your own. (@Adeola1232) January 17, 2019
Download Naija News App. Advertise with us. Send us enquiries and press releases.