Mbaka Shows Support For President Buhari Re-Election Bid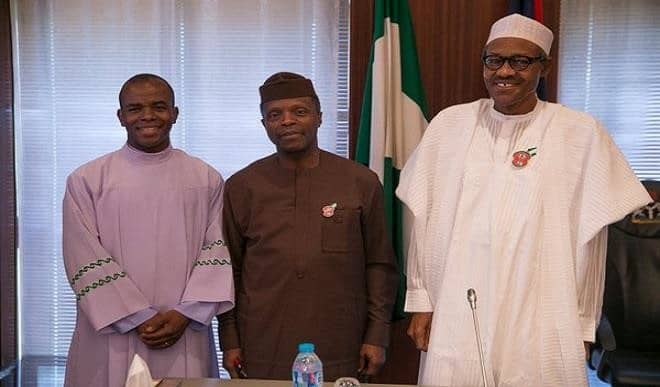 The spiritual director of adoration ministry, Ejike Mbaka, has shown support for President Muhammadu Buhari's elections bid.
The charismatic priest made his support for President Buhari known in his new year message.
The Catholic priest said Nigeria has not had president who has undertaken agricultural programmes like Buhari.
He said Buhari has done alone to curb clashes between herdsmen and farmers and banditry.
"A president that is fighting corruption need to be supported," he said.
"We pray for President Muhammadu Buhari; he is a man who understands the situation. Since Nigeria started, we have never experienced a president that has agricultural programmes like him.
"For 16 years, the road from Anambra to Enugu was over-grown with weeds but within four years the road is being reconstructed and the same way they are doing it to Umuahia. This one that remembered us may God bless him.
"Four years doesn't mean eight years; he has finished his four years, I pray for peaceful transition that he may complete his remaining four years. He will hand over to a better person, may the Lord keep him. When he was sick, he was almost dead and we said prayer and God granted him healing. God knows the purpose for allowing him to be alive; if God doesn't want him, he could have died.
"The roads that were not going has started going. A lot of things are happening now which nobody knows. May the lord protect Buhari; it shall be well with our president."
The Priest has come under fire when he said that the PDP presidential candidate and his vice, Atiku Abubakar and Peter Obi will end in after Obi failed to give a donation to his ministry.