Boko Haram: Ohanaeze Wants Buhari To Sack Security Chiefs Over Killing Of Soldiers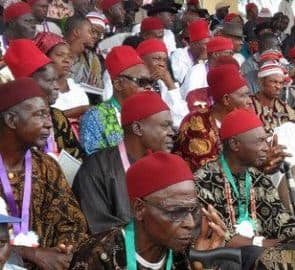 The apex Igbo youth body, Ohanaeze Youth Council, has admonished President Muhammadu Buhari to rise to the duty he was elect to carry out and put an end to the continued killing and kidnapping of innocent citizens in Nigeria.
The group urged further that current security chiefs be sent on compulsory retirement over alleged misappropriation of one billion dollars security funds approved to them by the presidency.
The group, which admonished the federal government to properly equip the security agencies to enable them tackle insurgents' activities in the country, alleged corruption in the nation's security agencies had hindered the war against insurgency.
The group made it position known in a statement signed by the National President of OYC, Mazi Okechukwu Isiguzoro, OYC National President and made available to Newsmen.
The apex Igbo youth organization, however condoled the families of the victims of Boko Haram attack which occurred in Maiduguri, Borno state, which also led to the killing of Nigeria soldiers.
The statement said, "We, the youth under the umbrella of Ohanaeze Youth Council received the news of our soldiers who were massacred last week by the Boko Haram insurgents in Maiduguri with great shock and wish to issue a statement concerning that, because it is a national loss and a great stain to our security, if not checked.
"To save this, our security should be paramount to Mr. President, Muhammadu Buhari, who on 29th May,2015 vowed to protect our sovereignty which is presently under threat by Boko Haram, when he was sworn in as the president of our beloved country Nigeria.
"On this, we members of Ohanaeze Youth Council, therefore, stand firmly to ask Mr. President to rise to his basic constitutional responsibilities which is to eliminate the occasional killings, kidnap, disruption of property in some states like Jos, Maiduguri, Kaduna, Taraba and Beune.
"On this note, therefore, we recommend that Mr. President should issue compulsory retirement to all serving chiefs including those top military commanders deployed to Maiduguri. This is because of the alleged corruption among some top military officers who have turned adventitious in the North East to enrich themselves.
"Is for Mr. President as the Commander in Chief of the Armed Forces of our nation should take a drastic action against our neighbouring countries like Chad, Cameroon and Niger who occasionally give access to Boko Haram to attack our people in the North East.
"Also, we suggest to Mr. President to equip our military to fight this course. Our military can do it, they conquered in Sierra Leone, Liberia, Serbia and many other international missions. So we are very confident that they can end Boko Haram in the North East and bring lasting peace in Jos, Kaduna, Zamfara and Benue, including Taraba.
"I also ask my fellow Igbo youth and Nigerians in general not to play politics with our security but to support Mr. President to fight this course".