I Know Nothing About Oshiomhole's Interrogation By DSS – Amosun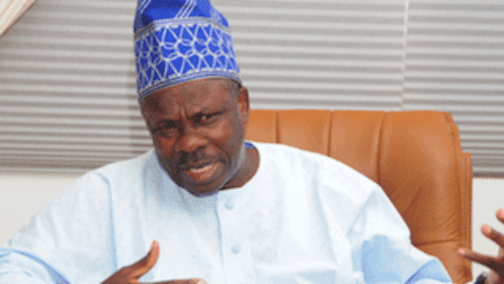 Ogun state governor, Ibikunle Amosun has said he is not behind the interrogation of Adams Oshiomhole, national chairman of the All Progressives Congress (APC), by the Department of State Services (DSS).
Oshiomhole was reportedly detained and quizzed by the DSS after some APC governors alleged that he received bribes during the party's primary elections.
Oshiomhole was pressured to resign but traveled out of the country after his encounter with the DSS.
Amosun fell out with the leadership of the party after it chose Dapo Abiodun as his state's gubernatorial candidate. The governor's preferred candidate is Abiodun Akinlade.
Speaking with journalists at the presidential villa after meeting with President Muhammadu Buhari on Thursday, Amosun said he does not "have to hide under a finger to fight" anyone.
"I think you are probably giving me an oversight role and I am not a security person, so clearly I think that question will not be for me. I don't have to hide under a finger to fight," the governor said.
"If there is need for me to put my views across, you know me by now that I will do it."
When asked to comment on Oshiomohole's reported trip out of the country, the governor said he is "not well suited" to respond to such a question.
"I have told you those things are beyond my pedigree and you are asking me questions that I am not well suited for," Amosun said.
"The one that I have to talk about we have said it loud and clear that it doesn't event need add anything."