Restructuring's The Only Way Out Of Security Challenges In Nigeria, Says Edwin Clark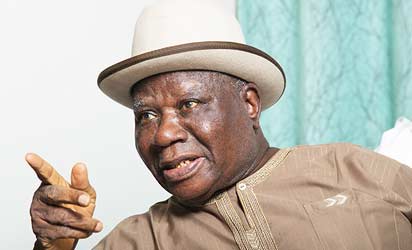 Edwin Clark Recommends Restructuring To Fight Insecurity
One of Nigeria's elder statesmen, Chief Edwin Clark, has said that the only solution to the prevailing security challenges in the country lay only in restructuring.
Naija news learnt that Clark, a former Minister of Information, gave the recommendation earlier today during a telephone interview session.
He also said the centralised security architecture in the country could not avert or respond swiftly to security issues in all parts of the country.
Clark said the country must, therefore, restructure to allow for the creation of state police and other grassroots policing options, to tame the security issues in the country.
"The security challenges the country is currently facing will be overcome if we adopt restructuring."This is because the issue of security is local and we cannot have effective security cover when everything is done from the centre.
"A major ingredient of restructuring is state police and it is when we have this and other community policing options that we can have proper security," he said.
The former minister said that restructuring would also promote effective governance and development, if adopted by the country.
He explained that it would ensure that power devolved from the centre to the other federating units, quickening decision-making and bringing development faster to the people.
Clark said the central government was too powerful and some of its powers were better exercised by the states and local governments.
"Restructuring will ensure that power devolves from the centre to the other federating units for effective governance.
"Why, for instance, would the Federal Government be involved in things like secondary education, health services, agriculture that are better handled by the states?
"The government at the centre, in an ideal federation, should only control areas like immigration, defence and maybe prison.
"Restructuring will ensure that resources are freed up at the centre for the development of those local things like agriculture, health and secondary education," he said.
The former minister emphasised that restructuring would favour all parts of the country, and would promote competitiveness among states and regions.
Clark said the idea of resource control would catalyze development in states, as they would be able to utilise their resources for their development.He said he was glad that restructuring was now gaining wide acceptance among politicians, as some presidential aspirants now promised it in their manifestos.
The former minister said that those who had condemned initial calls for restructuring were now the ones promoting the idea. Clark said leaders in the South-South were for restructuring and would only support politicians with restructuring agenda for 2019.
He called for peaceful co-existence in the country, saying it was only in an atmosphere of peace that the country's goals would be realised.