Troops Neutralizes Herdsmen In Benue Operation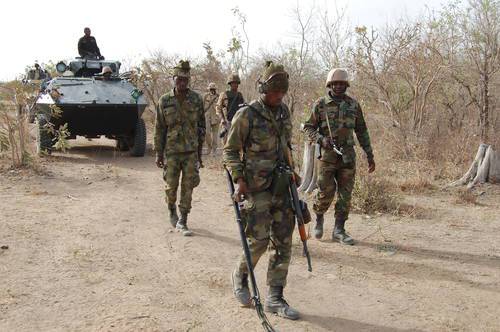 The Nigeria Army of the Operation Whirl Stroke, have neutralized 10 armed herdsmen along Gbajimba-Akor-Tomata axis of Guma Local Government area of Benue, the commander of the operation, Major General Adeyemi Yekini (OPWS), made this known.
The commander also disclosed that about two soldier were injured, while one lost his life in an encounter with the herders who engaged the troop in a gun battle.
Gen. Yekini, while speaking to newsmen, said that the number of casualties among the herdsmen during the initial encounter could not be ascertained, noted that while the fighting was going on a Mi35 helicopter that was scrambled to provide air support for the troops sighted the armed herdsmen on motorcycles.
"During the firefight, the Mi35 spotted a group of about 20 armed herdsmen riding on motorcycles moving along the axis towards Nasarawa State.
15 of the armed herdsmen on five motorcycles were neutralized with rocket fire from the Mi35 while others escaped with various degrees of injury.
"Our troops chased remaining herdsmen until contact was broken close to the boundary between Nasarawa and Benue State.
Plans are in progress to conduct further clearance operations of the border areas between the two states," Yekini said.
The Nation reports that the General Yekini, while adding that another operation was carried out last Saturday in Katsina Ala area which suggested that Benue most wanted terrorist, Terwase Akwasa must have been killed.
"The raid operation which took place at Tse Akwaza camp belonging to Gana in Kastina-Ala commenced at about 0500hours on 18th August, 2018 through JatoAka-Kashimbila-Tyotsar axis but was suspended due to bad terrain and damaged bridge at Tyotsar which troops could not cross due to flooding.
"It was not clear if Gana was killed during the assault, but trail of blood seen in the building suspected to be where he slept suggests he might have been hit.
"A motor cycle usually used by Gana was also badly damaged during the air strike, many sacks of substance suspected to be Indian hemp were recovered and burnt", General Yekini said.
Source: Naija News