Femi Fani-Kayode, Nnamdi Kanu, IPOB and other Victims of Oppression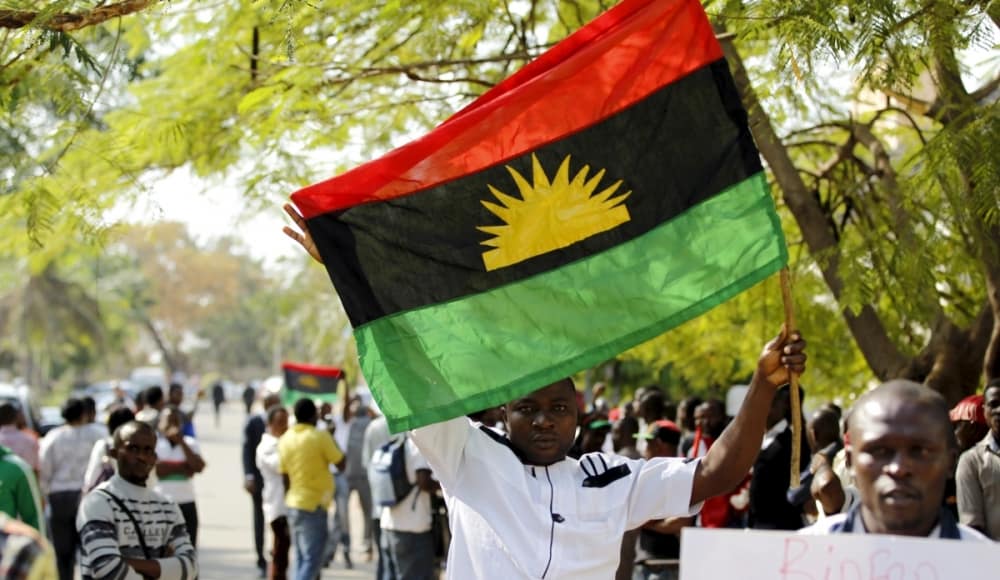 By Jude Ndukwe
I read with derision the infantile missive of one Churchill Okonkwo which he mischievously titled "FFK Stabbed Nnamdi Kanu, Betrayed IPOB and Kissed Kwankwaso" which was published in Sahara Reporters of August 3, 2018. It is unfortunate that in attempt to score cheap points, use FFK's famous name to climb to momentary limelight and satisfy his paymasters, Churchill vitiated the seriousness of the struggle of IPOB and reduced it to mere politics out of the need to satisfy his hirers. I would have ignored him but then on a second thought, what does it take to enlighten an ignoramus of Churchill's status.
Let me start by making it clear from the outset that IPOB's struggle is not hatred for the Fulani, it will amount to reducing the noble struggle of IPOB for freedom and justice to hatred for the Fulani or any other tribe for that matter just like Churchill alluded to in that unfortunate essay of his. The fact is that it does not matter who is president today even if the person is Igbo, IPOB would still insist on continuing with their struggle unless a better, more acceptable and workable option is presented before them.
It is foolhardy if not outright insanity to allude that FFK defined the struggle for IPOB by instigating IPOB against the Fulani when it is very obvious even to the dumbest of all dullards like Churchill that Nnamdi Kanu's struggle against the Nigerian set up was totally and absolutely independent of whatever opinion FFK holds against critical political actors and drivers of the nation irrespective of tribe.
It is the same FFK who has stood solidly by the former NSA, Col Sambo Dasuki, rtd, even though Dasuki is Fulani while he has subjected the vice president, Prof Yemi Osinbajo, a Yoruba man, to relentless criticism for the way the country is being run today. So, it is not about tribes, it is about freedom; it is about justice; it is about fairness, and it is about equity.
Churchill and his well known sponsors should have known better that FFK and Nnamdi Kanu only crossed paths in Kuje prisons as a matter of divine arrangement and as a result of their common sufferings callously and wickedly imposed upon both of them for their courage by the same set of Fulani actors at the corridors of power today.
Unfortunately for those who wrote the script of sending the two men to Kuje prison on different and questionable charges, they did not know that they were inadvertently making themselves available to be used by the Almighty God to arrange for the two lions south of the country to meet and strike an unbreakable chord of friendship that no fury from hell can break.
This was just like the biblical Joseph son of Jacob who was thrown into prison with the hope of seeing him rot there but those who threw him in prison did not know that that it was actually God's plan to enthrone Joseph, a stranger in Egypt and one who, by all standards, was considered an outcast, unfit and unqualified to hold any political office in Egypt not to talk of being their Prime Minister. The ways of God are indeed deep and mysterious. God has a way of using the past to reinforce his supremacy in the present by repeating those same events of the old in our time. Unfortunately for some of those who call themselves Christians, they are so blinded with religious pride that they cannot see what God is doing while the Fulani, just like the children of Issachar in the Bible who understood the signs of the season, understand the signs of the time and have seized the opportunity to "reconcile" with FFK, and like FFK himself said, "we had a wonderful time and a fruitful and productive discussion about national issues and the way forward", after the visit of Alhaji Musa Kwankwaso to his home.
How the Churchills of this world don't understand that what is happening is God's divine arrangement is bewildering. Joseph was true to his faith and convictions, he was imprisoned but God elevated him using the same strangers among whom he lived. It was the same thing with Daniel, the same thing with the three young Hebrew men thrown into the fire etc. "When a man's ways please the Lord, He makes even his enemies to be at peace with him" (Prov. 16:7). Churchhill should go and understand signs of the time.
One is also not surprised that Churchill Okonkwo has allowed himself to be swayed by filthy lucre to needlessly and vainly attack FFK in an attempt to stop a God-ordained destiny for him from coming to fruition. After all even Herod embarked on such a mindless course of murdering infants just in an attempt to stop Christ from manifesting. Even in Revelation chapter 12, the dragon fought ruthlessly against the woman in an attempt to stop her from giving birth to the son but she was given wings with which she flew beyond attacks. Let those who have understanding ponder on these things!
Churchill in that article of his quoted a lot of verses from the Bible and even alluded to his pastor at one point showing that he is a Christian. Sadly, this is one Christian who lacks the spirit of discernment to understand what God is doing in our time and clime. He forgets that even Joseph, the son of Jacob still went ahead to reconcile with those who sold him into slavery as long as that would make the purpose of God for Israel his home country come to fruition. After all FFK's disagreement with the Fulani was nothing personal but based on national interest. His criticisms are based on the grave injustices meted out to Nigerians by a government whose most powerful cabal is peopled by the Fulani. FFK is sometimes also riled that despite the evil perpetrated in the land by a government led by the Fulani and the notorious Fulani herdsmen terrorists, hardly does any Fulani elite condemn such dastardly acts by the murderous group nor the tyranny our nation has become.
So, if after all his criticisms, some leading Fulani actors have eventually seen the light and gone to FFK to consult with him, telling him that all he had been saying about the happenings in the country are true and have eventually sank into them and that they were ready to join forces with him and his party to oust this current government that has allowed so much tears, sorrow and blood to flow in the country ceaselessly, it is Nigerians that gains at last and it shows that even the same elites of Fulani stock which FFK has been criticizing for the sorry state the ruling cabal has turned our country into understand that FFK's interest was nothing personal but for the good of all. In the end, we all including the Churchills of this world benefit from a nation run according to the will of the people and the rule of law rather than the brute of force.
The allusion that FFK was welcoming the Kwankwasos, to his Abuja home for his selfish political reasons is balderdash. FFK does not need to welcome the new defectors to PDP to his home to show that his stance on national issues are pristine and noble. After all, even in the PDP there are staunch Fulani members including the legal luminary and former minister of Special Duties under President Goodluck Jonathan, Alhaji Kabiru Tanimu Turaki SAN, and other notable Fulani PDP leaders across board. It rather shows class when you open your doors to those people considered for you as sworn enemies by enemies of friendship and progress.
FFK has earned for himself the right for his home to be turned to a political Mecca of some sort. Any presidential aspirant worth his salt knows that FFK has become a factor in moulding opinions and influencing national discourse to his side. That Buhari has indeed become so unpopular today that his hitherto diehard allies like the Sarakis, the Atikus, the Kwankwasos, the Tambuwals, the Hunkuyis, etc have abandoned him in quick succession is largely due to the courageous works, words and writings of FFK who has refused to buckle under grievous threat to life unlike certain people who quickly jump ship to Buhari's party, the APC, just upon being shown papers of investigations against them.
World over, noble men who have proved their fidelity and consistency to a cause even if it amounts to dying for that cause attract to themselves great men because at certain levels, these great men want to associate with only those they can trust, and FFK has proved beyond every reasonable doubt that he can remain friends with the Igbo and every other tribe without betraying one for another but uses that opportunity to ensure justice and freedom for all. Fidelity is a virtue of the tested and trusted!
Contrary to the gibberish spewed by Churchill, FFK has not and cannot abandon his bosom friend Nnamdi Kanu no matter the circumstance. Just barely two weeks ago, precisely on July 21, 2018, FFK was in Umuahia the Abia State capital to bury his mother-in-law who passed onto glory, and the occasion and venue were abuzz as IPOB high command and members did not only storm the venue of the burial ceremony in their numbers, they came from different parts of the southeast, chanting solidarity songs and hailing FFK to high heavens for his resilience and support to them and to Nnamdi Kanu even when they thought they had been abandoned by all.
If the meeting at the burial ceremony was agog, the one at the residence of Nnamdi Kanu where FFK proceeded to go and see a multitude of IPOB members waiting for him was boisterous and vociferous. Nnamdi Kanu's residence that had been scantily active since the unfortunate "Operation Python Dance 2" incident suddenly came back to life once again. The news of FFK's presence there spread like wild fire and before you could say Jack Robinson, people had trooped from all corners of the region to come catch a glimpse of their "Nwanne Di Namba", with many acknowledging the fact that it takes uncommon men with great value and valour to stick to their friends in the face of grievous adversity like that suffered by Kanu and IPOB. The people were mesmerized that FFK thought it worthy to encourage them not by phone or through his numerous intellectual essays laden with incontrovertible historical and prophetic facts, but to personally come all the way to see them and restore their hope in the struggle even if he had the easier option of returning to Abuja immediately after the burial of his mother-in-law as some in his position would have done.
While encouraging the IPOB crowd to be law abiding, FFK was unmistaken in reminding them that theirs was a just struggle and that that which they are struggling for is recognized in the UN Charter on human rights. He admonished them that while they keep the struggle alive, they must not forget to also be orderly and continue to maintain their stance of a non-violent struggle until such a time when their wishes would come to fruition one way or the other. The crowd went into wild jubilation when FFK reminded them to count on him as a true friend who will never abandon them even if it means him standing alone with them. Videos of the event are on youtube.
The people including IPOB members know their true friends, and no matter the bitter calumny spewed by a demented heart like that of Churchill Okonkwo, FFK shall not only remain the people's voice but their champion and a toast, both of the high and the mighty and the common man. That is his destiny, and no one can abort it.
[email protected]; Twitter: @stjudendukwe