Fayose On Street Parade After Poll, Meets Ado Ekiti Monarch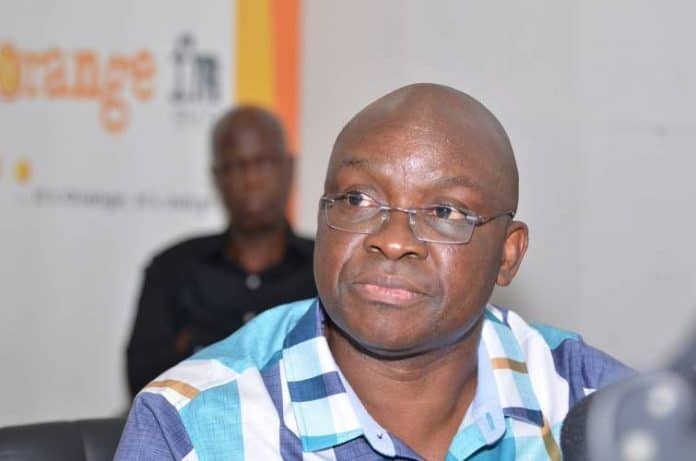 The governor of Ekiti State, Ayodele Fayose, in his first public appearance since last Saturday's governorship election in the State, embarked on a road show in Ado Ekiti, the Ekiti state capital, in which his supports hailed as he moved round the streets of the city.
The palace of the Ewi of Ado-Ekiti, Oba Adeyemo Adejugbe, was the place where the outgoing governor rounded up the street parade where was joined by scores of people in areas such as Okesa, Oja Bisi, Ojaba, Irona and Oke Oriomi.
The governor complained to the traditional ruler that he and his supporters were still being hounded after the election, three days after the poll.
"I have come to officially tell your Kabiyesi, as the Paramount Ruler of Ado-Ekiti, the state capital, that the Government House was invaded by the police, even after the election was over
"Over 400 of our members are still being detained as we speak now. After the poll on Saturday, my wife was prevented from entering the Government House for about 45 minutes.
"Since last Wednesday, security agents have continued to lay the siege to the Government House, and are subjecting people to untold hardship coming in or going out.
"My concern is, the poll has come and gone irrespective of what we went through. The constitution says I am still the governor till October 16 this year.
"Our state radio and television stations had been shut down. And there has been no means of getting across to our people
"It was only this morning that security agents at the entrance of the Government House were withdrawn
"If we have been robbed I still have a right to life and my family has a right to life too
"The man that won has three units of the police protecting him. All my security men have been withdrawn since last Wednesday and not restored yet. I am only left with just a few.
"Harassing me is not in the interest of democracy. People must intervene before things get out of hand. I don't know why we should be in this situation in 2018," he said.
The Oba was appreciative to God that no body died during the election
"As if we knew, monarchs arranged many meetings before the election and pleaded with everybody before, during and after the poll.
"We don't want any trouble. We said then that whoever wins, there should be no problem.
The way I see you, I know something is happening. You rarely wear this type of dress to the palace.
"I will convey your message to the Oloye of Oye-Ekiti, who is the Chairman of the Ekiti State Council of Traditional Rulers because we are worried about your whereabouts.
"I appeal to security agencies that they should restore your personnel to you as the sitting governor
" As Ekiti leaders, we will intervene. You, Fayemi and Eleka are our sons. Peace must be allowed to reign. We need peace in our state," the Oba said. (NAN)