Saraki Calls On US For More Involvement In Nigerian Trade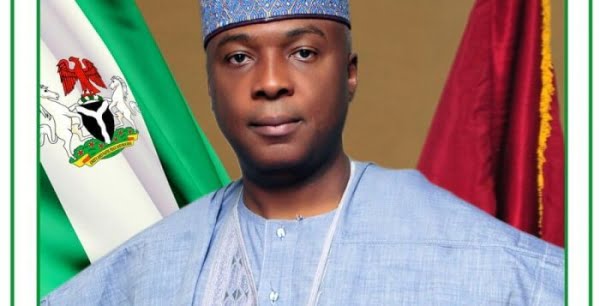 Senate President Dr. Abubakar Bukola Saraki Calls On US To Explore Trade And Investment Opportunities In Nigeria
Senate President Dr. Abubakar Bukola Saraki, has called on the government of the United States (US) to take advantage of the trade and investment opportunities in Nigeria.
The Senate President made the call while addressing the US Chamber of Commerce on "Doing Business and Opportunities in Nigeria" as part of a parliamentary visit to Washington DC by a National Assembly delegation at the weekend.
In a statement by his Chief Press Secretary, Sanni Onogu, Saraki, stated that there was huge investment opportunities in agriculture, financial technology (Fin-tech), infrastructure, health and oil and gas in the country that promise huge return on investment for any investor.
In his words, "The unique history of Nigeria and US makes it imperative that it should remain by far our biggest and closest trade and investment partner. The evolving new vision for the Nigerian economy is within this context of our relationship matrix with US as we share similar and converging values.
"However, in recent times, it would appear that China has been the more willing and enthusiastic partner for business and investment. China has already invested or financed a total number of $22 billion projects $45 billion in Nigeria with another $40 billion ready for the next phase of infrastructure financing and investments.
"China is approaching Nigeria and the African continent as an investment destination and offering soft loans to the continent. We are indeed happy. But we are also aware that this is the primary place reserved for our core allies like the US. We want to see the US and investors like you here, to develop a new lens for assessing Africa.
While Saraki  appreciated the aids and humanitarian gestures Nigeria has received so far, he noted that "it is no longer enough and in our mutual best interest to continue to ignore the vast opportunity for trade and investment on the continent particularly in Nigeria. We want to see the US successful with Nigeria diplomatically and economically,"
Saraki  explained that while Nigeria is one of the sub-Saharan countries eligible for preferential trade agreements under the African Growth Opportunity Act (AGOA) of the US Congress, but going forward, the country intends to exit AGOA at some point into a full fledged trade agreement based on trade relations.
Source: Naija News