Trump To Help Fight Terrorism And Improve Agriculture In Nigeria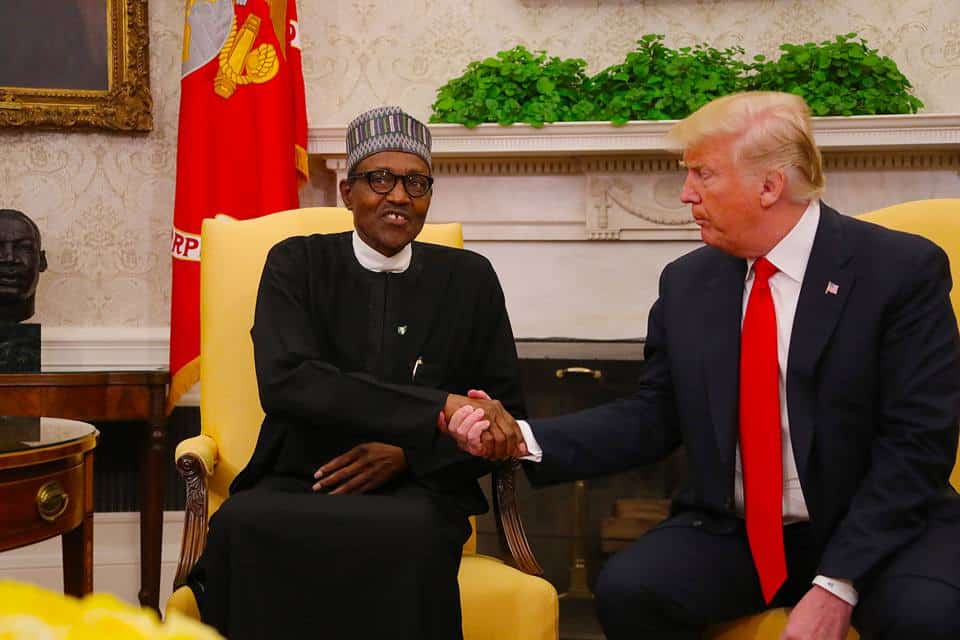 Trump To Partner With Nigeria On issues Of Security And Agriculture
President of The United States,  Donald Trump has promised to send American farmers to Nigeria in a bid to develop the agricultural sector.
The American president  who also said he will subsidize whatever the farmers would need in order to remove any obstacles in the new relationship between Nigeria and the United States as regards the agricultural sector also reiterated his support in fighting terrorism in Nigeria.
Governor Ibikunle Amosun of Ogun State who was part of the Federal Government entourage to the United States in the just concluded bilateral meeting between President Donald Trump of America and President Muhammadu Buhari of Nigeria, disclosed this to journalists after a meeting between the two leaders in Washington DC on Monday.
Governor Amosun said that President Trump repeatedly assured that he was going to send farmers from America to Nigeria.
According to Gov. Amosun,  Trump said  " he will get farmers to come to Nigeria en masse and assist us and that they as government will subside them heavily so that they can come to Nigeria to assist us in our agriculture sector drive."
On the meeting between Buhari and Trump, he said, "The meeting is very fruitful, very successful particularly if you take it from the angle that this is the very first African leader that President Trump will be receiving and it wasn't just a meeting like that, it was deep rooted because I was part of the meeting. It showed what I will call the approval for almost what the administration of President Muhammadu Buhari is doing.
"They followed what was happening maybe in the last few years. It was even them from their side that were reeling out all of those things that have happened to us as a nation and they recognise the fact that yes, things are tough and they appreciate the efforts of Mr. President. Of course, there is always room for improvement. They have shown commitment and they have shown general impression that they will support what we are doing.
"We are gaining a lot. Let me just give you two or three. One, in the area of security. They rightly said that not just selling those Tucano helicopters for us, they are going to follow it up with so many other assistance like training and what have you.
"Indeed as we speak, they are already in Nigeria assisting and they have promised to do more in the area of repatriation of our looted funds, they realized that yes it is taking time, they will assist us.
"But the one that I think Nigerians will be happy about is in the area of agriculture. They have now zeroed in on that aspect. Yes, the oil is there, they too realised that before we get it right we need to diversify our economy and President Trump has actually given his commitment that they will now zero in in the area of agriculture and they will see his they can help us.
"So if you look at the totality of why we are here, I think we have even achieved what we bargained for. Generally in all these three areas, he promised to help us particularly in fighting terrorism in Nigeria in security challenges that we have. They are assisting us in the area of the economy and of course in the area of fighting corruption, they are going to assist us as well. So all in all, they are supporting us."
Chairperson, House of Representatives Committee on Foreign Affairs, Nnenna Elendu-Ukeje said "The bilateral meeting between President Buhari and President Trump of United States was very successful. Nigeria as a country was able to intimate the United States of the fact that reciprocity for us is something that is of utmost importance.
"We spoke about diversifying the economy, we spoke a lot about security and the counter terrorism war and what Nigeria proposes to do with the counter terrorism war and the President of United States gave the commitment about working with Nigeria of course seeking greater collaboration.
"Speaking about reciprocity and Nigeria made her point well that we will be willing to reciprocate as far as the AGOA was concerned about the Nigeria agricultural product with the United States agricultural product.
"It was a successful visit and the good thing about it was that there was a commitment of greater engagement between both countries highlighting security, trade, creation of jobs on the average it was a good meeting."