No Plan To Gang Up Against Buhari Will Succeed – Ngige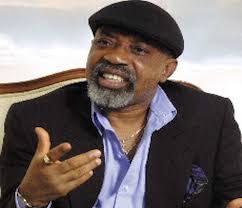 Labour and Productivity Minister, Chris Ngige has today said no gang up against President Muhammadu Buhari by some leaders would stop his re-election in 2019.
Ngige said this at Ado-Ekiti, during the grand finale mega rally of the All Progressives Congress, while noting that Buhari has brought sanity to the Nigeria's economy compared to what he met when he assumed office in 2015.
He described the parties forming alliance against the president as "mushroom".
He said the APC, which first evolved as Action Congress and later Action Congress of Nigeria before its current name of APC, had remained a progressive party with the vision and mission of uplifting the lives of Nigerians.
The minister urged people of Ekiti to vote wisely by electing Dr. Kayode Fayemi of APC on Saturday, so as to be part of progressives.
He said parties gathering to remove Buhari in 2019 are only wasting their time.
"All the gang up against the President will fail and he is going to win with landslide victory. It is obvious that before now, there was strong opposition against President Buhari by same past Nigerian leaders, but their plan to stop him then failed.
"I can equally assure you that their gang up now will still fail because those who say Buhari should not run in 2019 are afraid that they may be forced to cough out the public fund they embezzled through dubious means, "he said.
He accused Governor Ayo Fayose of impoverishing the people of Ekiti state, especially the Igbo traders by his refusal to pay backlog of salaries.
He noted that the non-payment of salaries was fast destroying the businesses of many Igbo people that are into trading in the state, saying a vote for Fayemi would address the current situation.