Fayose Loses Senator Rasaki, Rep Member, Others APC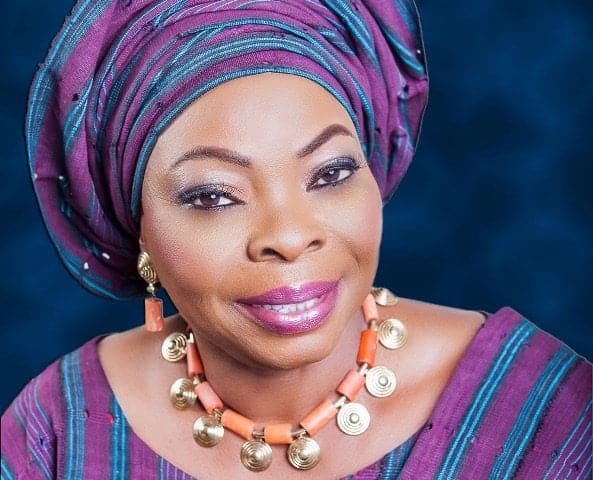 The efforts of the People Democratic party (PDP) to ensure that Professor Kolapo Olusola Eleka, Gov. Ayodele Fayose's deputy ascend the seat of his boss in the forthcoming July 14 election in the state has suffered another set back as several key members of his party switched support to the All Progressives Congress.
President Muhammadu Buhari welcomed the new members into the fold of the All Progressive Congress (APC) during the Mega rally held at the Oluyemi Kayode Stadium in Ado Ekiti, by the party to round up the campaign to make sure that Dr. Kayode Fayemi is elected governor of the state.
There are indications that many members of the Ekiti State house of Assembly are gearing up to dump the PDP for the APC as two federal lawmakers were among the defectors, along with the chief whip of the state house of assembly.
Sen. Fatimat Raji Rasaki, representing Ekiti Central Senatorial District, the wife of a former military governor of Lagos, Mr. Olamide Oni, House of Representatives representing Efon/Ijero/Ekiti West Federal Constituency, were among those who have change their allegiance to the APC.
Political pundits said if the Ekiti central senatorial constituency, represented by Senator Rasaki and the biggest constituency in the state, vote for Fayemi, the election will be lost by the PDP candidate, Olusola Eleka.
NAN reports that the National Chairman of APC, Mr. Adams Oshiomole, was also on hand to receive the defectors. He assured them of equal treatment in the party.
Senator Rasaki, who spoke on behalf of the other defectors stated that they all decided to leave the PDP, because the party has become a one man show.
Former Minister of State for Works, Prince Dayo Adeyeye was the first to jump out of the Fayose PDP boat, after a controversial primary election, the outcome of which the lawyer-journalist said was predetermined in favour of Kolapo Olusola-Eleka.