Spain's Coach Fernando Hierro Resigns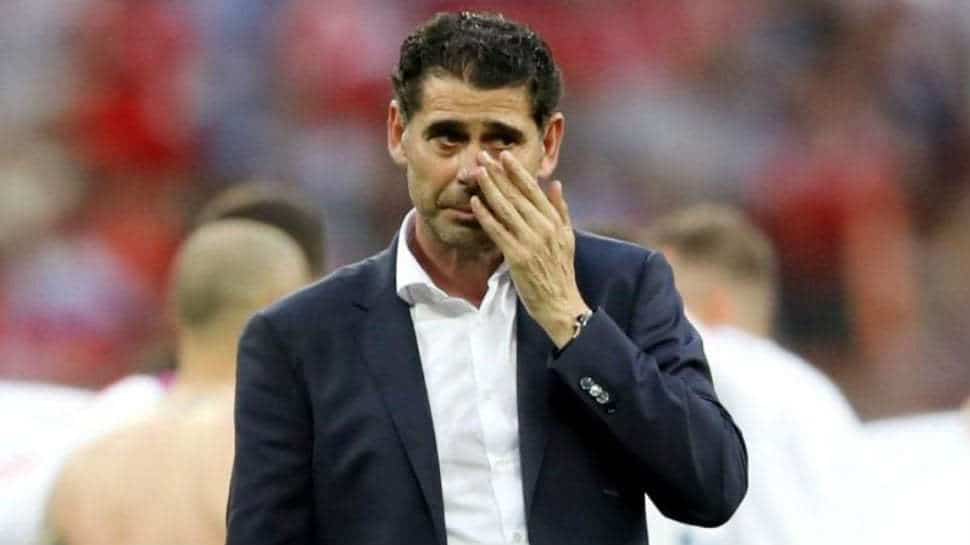 The Royal Spanish Football Federation (RFEF) has announced that the intern coach, Fernando Hierro, who led the Spanish team to their disappointing outing in the 2019 FIFA World Cup in Russia as resigned.
Lopetegui Julen the former coach of the spanish term was sacked by the was sacked by RFEF and he immediately left Russia to take over the Madrid job.
According to RFEF, Fernando Hierro, refused the offer by the federation to stay on the Job.
Naija News recalls that Spain was shown the way out of the World Cup when they met with Russia in the Round of 16.
RFEF announced Fernando Hierro resignation on its official website.
"After many kilometres of walking together, the Royal Spanish Football Federation and Fernando Hierro put an end to their relationship once the participation of Spain in the World Cup in Russia has ended. The last Spanish coach declined to return to his previous position as sports director of the RFEF to seek new horizons and undertake new professional challenges.
"After two stages as sports director of the Federation, the first between 2007 and 2011 – coinciding with the best stage of the National Soccer Team, which won the 2008 European Championship with Luis Aragonés as coach and the 2010 World Cup with Vicente del Bosque- and the second from November 2017 until now, the RFEF wants to thank Fernando Hierro for his commitment and sense of responsibility when he takes the lead in the national team in extraordinary situations as well as in the performance of all his duties, which will always be his home.
"The Federation wants to highlight the professional and human values ​​of an extraordinary athlete who wants the best of fortunes.
"Fernando Ruiz Hierro (Vélez-Málaga, March 23, 1968), absolute international, played 89 games with the national team, in which he scored 29 goals. He participated in the World Cups of 1990, 1994, 1998 and 2002 and in the Euro Cups of 1996 and 2000.
"He developed most of his career at Real Madrid CF, with which he played more than 600 games, achieving, among other titles, five Leagues, five Super Cups of Spain, one Cup of SM El Rey, three Leagues of Champions and two Intercontinental Leagues.
He had previously played for Real Valladolid and finished his career as a footballer at Bolton Wanderers F. (England), after spending a season at Al-Rayyan SC (Qatar).
"He has also been general manager of Málaga CF and was released as coach in the 2014/2015 season, being Carlo Ancelotti's deputy at Real Madrid. In the 2016/2017 season he was coach of Real Oviedo. "