You'll Lose In Your Ward, Talk Less Of Defeating Buhari – Ganduje Tell Kwankwaso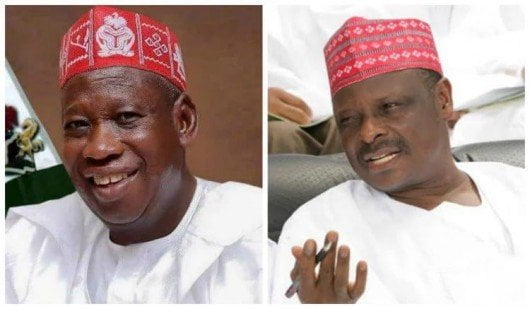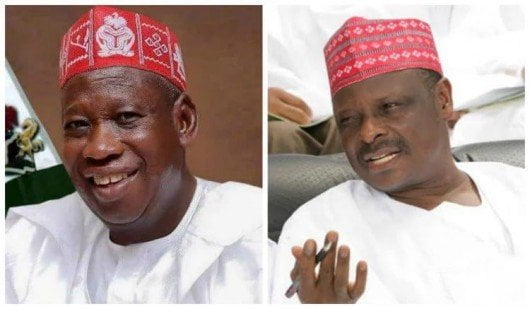 Kwankwaso's Political Structure Is Dismantled In Kano – Ganduje
Senator Rabiu Musa Kwankwaso, has been attacked by Governor Abdullahi Umar Ganduje, who claimed that the Senator will not win in his ward, talk less of defeating President Muhammadu Buhari in 2019 election.
While reacting to the speculation that President Buhari could be defeated by Kwankwaso if he is giving a ticket by PDP in 2019, Ganduje stated that the Senator's political structure has been dismantled in Kano such that he had lost grip of the realities of Kano politics.
Recall that Naija News had reported that Kwankwaso, stated that his defection to the Peoples Democratic Party is dependent on the next move of the nPDP.
Ganduje, in a statement, signed by Malam Muhammad Garba, the Commissioner for Information, described Kwankwaso as "a political fugitive who does not have the platform, the intellectual capability and mental ability to manage the affairs of Nigeria."
According to him, "Senator Kwankwaso's latest utterances have confirmed the fact that he is now a confused politician who is grabbing every opportunity to re-launch himself back to relevance.
"For over three years, he has been sleeping at the Senate without sponsoring even a bill that will positively impact on the lives of Nigerians. This is a clear indication that he has nothing to offer. He is just being boastful.
"For over three years, Kwankwaso has been at the Senate, he has not visited Kano Central, his senatorial district. He has not executed any tangible constituency project for his people.
"Since then, he has not been around and we have been here in Kano playing the game of politics the way it should be done.
The good people of Kano are appreciating our modest achievements and they have expressed confidence in us," he said.
The statement also stated that Kwankwaso's dream to get the PDP presidential ticket remains a dream that would never see the light of the day because those he was going to meet there were familiar with his antics.
"I am surprised that Kwankwaso is now talking about people like Malam Ibrahim Shekarau, a man he persecuted and betrayed in many occasions. I am surprised he is talking about the PDP, a party he destroyed and betrayed many of the chieftains who are still there today to pay him back with his own coin," the statement added.