Every Nigerian Has Right To Universal Health Care – Buhari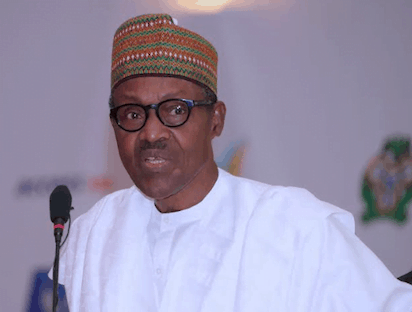 400 Nigerians Die Daily From HIV/AIDS Infection – Official
President Muhammadu Buhari, yesterday, in Abuja said every Nigerian has the right to universal health care.
The President who stated this at the launch of Nigeria HIV/AIDS Indicator and Impact Survey, NAIIS, 2018 at Old Banquet Hall, Presidential Villa, Abuja, also said with 3.2 million Nigerians living with the virus, the development of the nation has been affected.
He said efforts to treat the disease across the country is proving futile despite the huge resources disbursed to that effect since 2001.
According to him, "the availability of accurate HIV/AIDS data of the country is crucial for planning health interventions to arrest the HIV/AIDS epidemic. It has also led to inefficient utilisation and potential wastage of HIV commodities due to inaccurate consumption."
He stated that since the country does not have data, it has lost its ability to ask or compete for HIV grants and curative measures to eradicate the disease, adding that NAIIS tally's with his administration's determination to ensure long term solutions and other developments in Nigeria.
He said the survey was coming at the right time and that the government will ensure every Nigerian has access to universal health services as a right
While stressing that the government was committed to the successful conduct of the survey, the President called on state governments and all Nigerians to support the survey.
Director-General of National Agency for the Control of AIDS, NACA, Dr. Sani Aliyu, noted that 600 Nigerians were infected with the disease daily while 400 Nigerians die from the infection daily.
He said by sorting out the HIV/AIDS problem, it would boost the economy of the nation in the long run. The survey, he said, would help to identify more Nigerians leaving with the virus in order to put them on treatment.
Also speaking, UNAIDS Country Director for Nigeria, Dr. Erasmus Morah, urged President Buhari to increase the funds allocated to HIV treatment this year from N1.5 billion to the required N7.5 billion.
On her part, Chairperson of NACA, Pauline Tallen, said: "Without knowing our country's HIV data, trusting the data, we cannot adequately plan the country's HIV response. Without adequate planning, we certainly cannot fight HIV effectively."
The Minister of State for Health, Dr. Osagie Ehinare, noted that there were 168,000 HIV related deaths annually and that the more worrisome aspect was the 220,000 new infections annually, who he said, were not aware of the infection but have the potential of spreading the disease.
He said, "It is the first survey in Nigeria and the largest in the world. It will be conducted in the 36 states of the federation and the FCT."
The NAIIS, which is an initiative of the Federal Government of Nigeria through the Federal Ministry of Health and NACA, is a survey about HIV in Nigeria.