World Cup: Ighalo Takes The Blame For Super Eagles' Defeat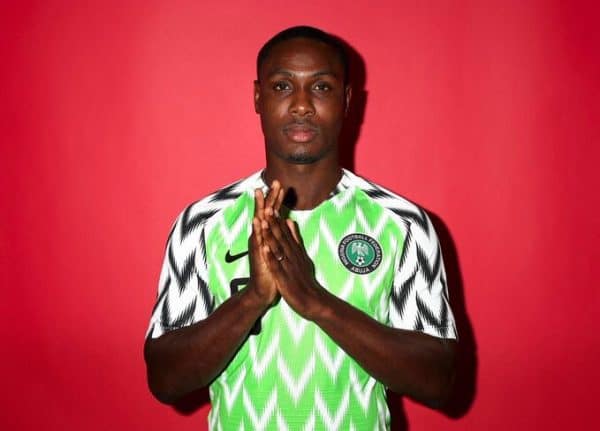 Nigerians Blames Ighalo For Defeat Against Argentina
In respect to the Super Eagles defeat in the Russia 2018 FIFA World Cup, the team's striker, Odion Ighalo has taken responsibility for the loss of Nigeria in their Group D last Match.
According to The Cable, Ighalo said, I take responsibility for this game because I had taken those chances I had that would have made it a different ball game now."
"I missed a couple of chances that would have finished the game but that's football because sometimes you win and sometimes to lose."
Nigerians have taken to Twitter to criticise him and his teammate, Kelechi Iheanacho. See some reactions below:
If you are madder at Ighalo or whoever else who choose as your personal object of hate for losing yesterday than you are at Buhari,you are part of the problem.Ighalo or anyone else actually tried to do something for their country yesterday.They felt something when we lost.Buhari?

— Babanla (@biolakazeem) June 27, 2018
You went on the refs page and insulted him. Went on Ighalo's page and when you couldnt insult him you moved on to his wife.

If you are reading this and you were part of this despicable act. You are a sorry excuse for a human being. With no modicum of decency

— Cinderella Man (@Osi_Suave) June 27, 2018
I don't think it's a penalty if a player *unintentionally* nods the ball against his own hand.

But if you're really looking for something to be mad about, be mad about Ighalo missing that chance after the ball fell to him. Forget this referee talk.

— Yomi Kazeem (@TheYomiKazeem) June 26, 2018
#NGAARG calm down guys
Ighalo was wasteful but
Rohr was supposed to make substitutions to assist the defence in calm the game for just 10 more mins so let's just #winlosedraw together as a team.

— Uche Jombo Rodriguez (@uchejombo) June 26, 2018
"Nothing unites Nigerians more than football."

But Nigerians are on Ighalo's wife's Instagram cussing her out because of football.

As with many cliches, a little interrogation & the shallowness of it is exposed.

Everything divides Nigerians. That's the reality.

— Babanla (@biolakazeem) June 27, 2018
Read More News. Download Naija News App. Send us enquiries and press releases.