JOHESU Suspends Strike, Orders Workers To Resume Today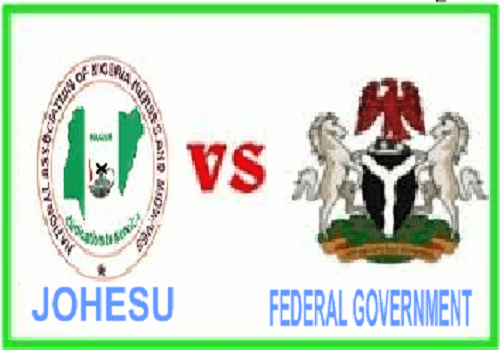 JOHESU Agrees To Suspend Strike, Asks Workers To Resume Today
The Joint Health Sector Union has eventually called off its strike of six weeks plus and has directed its members to resume work on Friday (today).
The directive was contained in a communiqué issued at the end of the National Executive Council meeting of JOHESU and Assembly of Healthcare Professional Associations in Abuja.
While expressing disappointment in the federal government, the communique reads;
"Following a series of meetings with eight members of the Federal Government team under the auspices of the Federal Ministry of Labour and Employment, the Federal Ministry of Health and other agencies of the government such as the Office of the Secretary to the Government of the Federation, Office of the Head of Civil Service of the Federation, Federal Ministry of Finance, National Salaries, Incomes and Wages Commission, Department of State Services and others, we note with dismay the insincerity and unseriousness exhibited at the negotiation table by the government's negotiating team, which led to the breakdown of further negotiations and unnecessarily prolonged the strike action."
The Communique also stressed that the strike was not political but was based on the principle of fairness and justice also said,
"The various gains from the meetings with the Senate President, Bukola Saraki, were presented to the NEC of JOHESU. After exhaustive deliberations and discussions, the NEC in session approved that the six-week-old strike be suspended this day Thursday, May 31, 2018, because of the sympathy the unions have for the suffering Nigerian masses and also to pave way for further negotiations to continue on Monday, June 4, 2018."
Read More News. Download Naija News App. Send us enquiries and press releases.