IPOB Vows To Continue With Sit-At Home Protest Despite Government Threats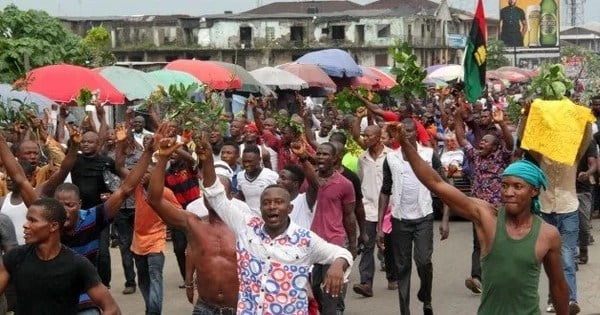 Ndigbos At Logger Heads With Government As IPOB Orders Sit At Home Of South Easterners
The proscribed group, Indigenous People of Biafra ( IPOB) today called for a sit at home of the five South-east states to mark the declaration of Biafra by late Odumegwu Ojukwu who led the Igbos in a civil war between 1967 and 1970.
The Anambra government has  however warned that it will sack civil servants who fail to report to office on May 30.
The directive for Anambra workers to return to work after Tuesday's Democracy Day celebration was given in a circular from the office of the Head of Service in the state, Harry Uduh.
IPOB is a separatist movement that seeks an independent Igbo country of Biafra but has since been condemned by many Igbos including political office holders.
PREMIUM TIMES reported that there has been an earlier threat by Ebonyi State Government that traders who obey the sit at home order will permanently forfeit their shops.
As earlier reported by Naija News, in Abia, the police and the civil defence held a joint security operation on Tuesday to warn IPOB against the sit at home order assuring that it would provide maximum security.
The government asked permanent secretaries and heads of departments and agencies to monitor the situation and report accordingly.
According to the memo, the "Governor of Anambra has directed that work resumes on Wednesday, 30th May after the Public Holiday on 29th May.
"All public servants must therefore report to their duty posts on Wednesday and the rest of the week.
"Permanent Secretaries and Heads of Ministries, Department and Agencies should monitor and report compliance unfailingly.
"Please circulate to all your staff," it said.
In a related development, C-Don Adinuba, the Commissioner for Information and Public Enlightenment in Anambra, said the state government had not declared public holiday on May 30.
Mr Adinuba, in a statement, therefore called on public servants therefore, to return to work.
"All Ndi Anambra are enjoined to freely engage in all their lawful businesses, without fear of molestation.
"Our state remains not only the safest but also the most peaceful and socially harmonious state in Nigeria," he said.
Earlier on Tuesday, the police in Anambra vowed to deal with any IPOB members found.
"The attention of Anambra State Police Command has been drawn to a media publication that claims that "no fewer than 2,000 members of 'outlawed' Indigenous People of Biafra (IPOB) took to the streets and roads of Onitsha in Anambra State on peaceful march to sensitise the public on the sit- at- home order it declared on May 30," police spokesperson Haruna Mohammed said.
"The publication is not only fictitious but also mischievously orchestrated by those elements who are not happy with the prevailing peace in the State which the Police and other Law enforcement agencies are working tirelessly to maintain.
"For the avoidance of doubt, the Indigenous People of Biafra (IPOB) is still a proscribed organisation hence all its activities remains illegal.
"The Commissioner of Police Anambra State Command CP Garba Baba Umar Psc once again enjoined all the good people of the State to disregard alleged calls by any group urging them to sit at home on the 30/5/2018 and go about their lawful businesses."
"Adequate security arrangements have been put in place by combined security forces in the state to proactively nip in the bud any threat emanating from such groups.
"Finally, the command will therefore not hesitate to deal decisively with and in accordance with the law any individual or groups under any guise that will disrupt public peace in the state." Mohammed said.