Police And IPOB Set To Clash Over Sit-At-Home Order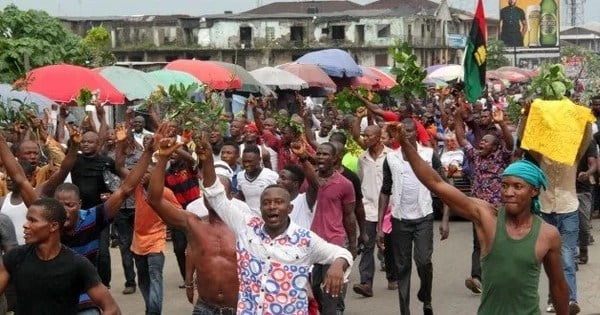 IPOB Dares Police Over Sit At Home Order
The Indigenous People of Biafra (IPOB) have insisted that the May 30 sit-at-home order given by the group would continue as planned despite warnings by the Anambra state police command on the illegality of the planned act.
The police are insisting that IPOB, remained a proscribed organisation, and therefore lacked the legitimacy to declare a protest order.
IPOB on its part, is insisting police can't stop it from carrying out its religious obligation to Biafra's fallen heroes.
Commissioner of Police, Anambra State, Mr. Garba Umar, has instructed the people in the state to disregard the order and go about their lawful normal businesses.
"The command, with other security agencies, will not hesitate to deal decisively with any individual or groups, under any guise, who disrupts public peace."
However, in a swift reaction, IPOB's Media and Publicity Secretary, Emma Powerful, said there is no going back on the May 30 sit-at-home order, saying the action would hold in no fewer than 100 countries of the world.
It further warned the police not to interfere in the activities of the group.
The police, IPOB insisted have no powers, in any law, to interfere in anybody's "religious affairs," as it is an inalienable right of every human and vowed to go ahead with the order as earlier planned.
"All Biafrans, no matter the states they are located, must honour and remember their heroes and heroines of the 1967 to 1970 Nigeria – Biafra war and others unjustly killed over the years.
"Every family, kindred, village, clan, town across the length and breadth of Eastern region, Mid-West and Middle Belt are expected to remain indoors from 6:00p.m. on Tuesday, (tomorrow) to 6:00p.m. on May 30. It is expected that a team of local and international observers will be on ground to monitor compliance and interview people.
Meanwhile, the Eastern Consultative Assembly (ECA), yesterday, gave full support to the sit-at-home order by IPOB, while also expressing support for the restructuring ideas of the group.
ECA Secretary, Evangelist Elliot Ugochukwu-Uko, called Ndigbo to observer the day with sober reflection, to honour those who laid down their lives for the Igbo nation.
"I would like to use this opportunity to plead with our people to remain indoors on May 30. It's the only way we honour our dead and reminisce on our journey in the country we find ourselves."
"Credit goes to leaders like Prof Ben Nwabueze and the patriots, who sustained the restructuring struggle for decades. We must also remain grateful to the great Ide, late Dr. Alex Ekwueme, who actually is the father of the six regional structure.
"It does not matter that this people woke up to the truth very late, their ceremony at Awka shows they have eventually become converted to the truth. We must thank God for that and pray their conversion is real.