Buhari Should Resign If He Is Unable To Protect The People – CAN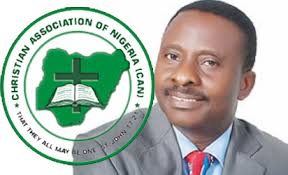 Christians Nationwide Protest Against Killings; Call On Buhari To Resign If He Can't Protect The People
In a peaceful protest against killing in the country, Christians have called on  President Muhammadu Buhari to resign if he can not fulfill his duty of protecting the people.
A representative of the President of the Christian Association of Nigeria, Samson Ayokunle, was speaking as Christians gathered in mass to hold a peaceful  protest at National Christian Center, Abuja.
"if he is unable to fulfill his duty of protecting the people.
The group which was led by the Catholic Archdiocese, expressed disgust over the many lives lost to attacks by suspected herdsmen across the country.
The protest was particularly  triggered by the killings of 19 people including two Catholic priests during an early morning mass at Saint Ignatius Catholic Church, Benue State in March.
Victims of the attack were buried on Tuesday by the Catholic Church in Benue State.
Speaking during the mass, shortly before the protest began, the Primate of the Church of Nigeria, Anglican Communion, Nickolas Okoh, said "although Nigerians from every religion have been dealt a heavy blow by the herdsmen, Nigerians will not surrender their country for any reason".
"We are aware that Muslims, Christians and even unbelievers have been killed by these people. This is a psychological warfare and we must not be intimidated," he said.
He lamented the poor handling of the situation by the government and called on leaders "especially at the centre to do their best to protect the people".
"When the government came to power, we hoped that everybody will be part and parcel of the government. Soon enough it became clear that it was a rhetoric. Government should try to keep its own part by protecting the people not a section of the country. Not some individuals.
"We have the Nigerian army, police navy, etc. They are capable, if given the right facilities to fish out the perpetrators of this act. Take away arms from killers and people will sleep well," Mr Okoh said.