Super Eagles To Play DR Congo Despite Ebola Break Out In The Country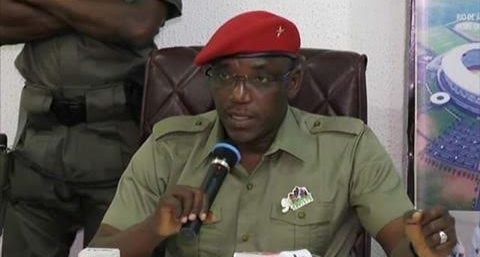 Ebola Wont Derail Eagle's Friendly With DRC – Minister
Minister of sports, Solomon Dalung, has disclosed that the planned friendly match between the Super Eagles of Nigeria and their counterparts from the Democratic Republic of Congo, will go ahead as planned despite Ebola scare in the country.
The minister, speaking in Abuja to State House correspondents after a meeting with President Muhammadu Buhari on Monday, however assured that players and crew from Congo will be properly screened before departure from their country to be sure that they pose no risk.
According to him, the Congolese delegation, who are expected in a chartered flight, will again be screened on arrival in Nigeria.
He said: "Nigeria is going to play the friendly with DRC. I have discussed with the Federal Ministry of Health with the World Health Organization. We have reviewed the situation and received adequate information about it.
"So, we have agreed on major approaches. One, the DRC team is coming through a chartered flight and those coming for the match will be using that chartered flight and they would have been screened from the DRC and they will be screened here in Nigeria.
"There is going to be no other person that is going to be admitted using any other means of transportation for the match.
"We also discovered that the Ebola outbreak is limited to a particular place and it has not escalated. So, we wouldn't want to run the risk of setting a precedent which we will later be a victim.
"Based on that, we only introduced strict policies to ensure that the match takes place and the match will take place."
Naija News recalls that the friendly match between the Super Eagles and Leopards has been scheduled to take place at Adokie Amasiesimaka Stadium, Port Harcourt on May 28.