Magnus Abe Declares Bid For Rivers Governorship Seat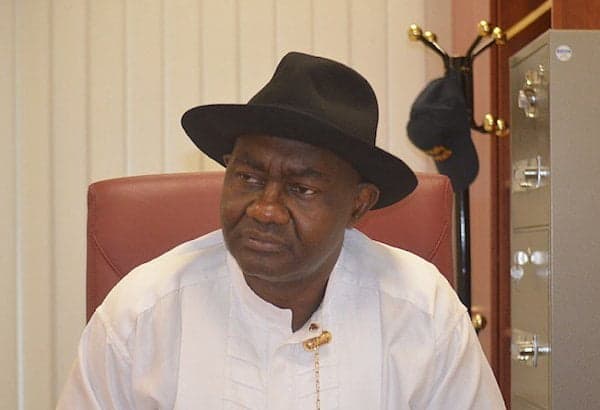 APC Trying To Manipulate Congress In Rivers – Abe
Senator Magnus Abe, the lawmaker representing the Rivers South-East in the National Assembly, revealed on Wednesday that he had uncovered a plot by some leaders of the All Progressives Congress to manipulate the forthcoming congress of the party in Rivers State.
The lawmaker revealed this while he formally declared his intention to run for the Rivers State governship and also unveiled his liaison/campaign office in Port Harcourt.
The lawmaker claimed that some lists were being put together with the aim of frustrating his governorship ambition and stifling opposing voices within the APC.
He, however, cautioned that members of the party must not allow "frustrated politicians and conflict entrepreneurs" to divide the APC in the state, adding that no member of the party willing to go for any elective position should be intimidated.
He said, "Here in Rivers State, we must ensure that our congresses are peaceful and fair. I have heard all the stories of prepared lists that are being put together for the sole objective of flushing out Senator Abe, and stifling all voices of dissent within the APC.
"We must not allow conflict entrepreneurs and frustrated politicians whose only hope for relevance and economic sustenance is to continue to balkanise Rivers APC. Some of them are here and some of them are there, but all of us need to ensure that the congresses are free, fair and credible.
"Any attempt to hold another hotel-style congress in Rivers State will break the confidence of the Rivers people that we are a party committed to doing right. Without the confidence of the voting public, a political party becomes a social club. It will be good partying and dancing, but it will not win elections."
Abe pointed out that he was not desperate to contest for the governorship election and added that any candidate under the party's flag with have his full support.
He also pleaded with party members not to defect to the Peoples Democratic Party, the governorship aspirant noted that those who want Nigeria to succeed as a country should stay with the APC.
He said, "There is no need going back to the PDP. Those going back to the PDP are missing the point. Those who want Nigeria to change must remain in the APC. The APC has shown improvement in governance. I call on all Nigerians to rally round President (Muhammadu) Buhari because he will bring the needed change we want.
"I, Magnus Ngei Abe, have decided in the interest of our state and the future of our people to seek the nomination of my party, the All Progressives Congress, Rivers State, for the office of the governor of the state in the 2019 elections. In doing so, I want to make it clear that there is no gunshot ambition.
"I want to assure the party and Rivers people that if there is a fair process that elects any other person than Senator Abe, I will not only support the candidate, but I will campaign for him."