Nigerian Police Clash With BBOG Campaigners In Abuja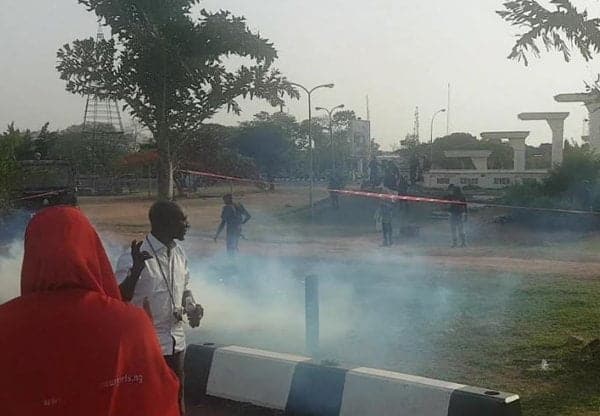 Police Attack BBOG Campaigners With Tear gas
Members of the Bring Back our Girls group advocating the return of 112 Chibok schoolgirls in captivity of Boko Haram have been attacked by the police as they approached the Unity Fountain for a sit-out.
The group also took to its Twitter handle @BBOG_Nigeria to post a video of police officers using tear gas to harass them.
The day a GOVERNMENT starts SUPPRESSING the VOICES of CITIZENS, that GOVERNMENT BECOMES UNFIT to GOVERN.@NGRPresident is in power and he seeks to suppress our voices, IT WILL NOT HAPPEN.#BringBackOurGirls pic.twitter.com/GaM6CJy4rH

— Florence Ozor™ (@FlorenceOzor) April 24, 2018
In April 2014, 276 female students were kidnapped from the Government Secondary School in the town of Chibok in Borno State, with Boko Haram claiming responsibility.
Some of the girls have been rescued while others are still in captivity.  Naija News however, recalls that the BBOG group has been consistent in their cry for the release of the girls.
A week ago, police officers clashed with Shiite protesters who also took to the unity fountain beside Transcorp Hilton, Abuja, to demand the release of their leader who has been in detention for over three years despite a court ruling freeing him.
Prior to that, the Abuja police commissioner, Sadiq Bello, while sealing the venue, placed an indefinite ban on daily sit-outs at the Unity Fountain by "pro-democracy and good governance advocates across Abuja".
This ban was however condemned by activists, the BBOG also gave the police 72 hours to unseal the venue of the outs.
Mr Bello said he took the decision because he saw the the groups as constituting "public nuisance".
Jeff Okoroafor, a member of the BBOG said despite the attack on members yesterday, the group will come out to protest today by 4.30pm.