Angry Youths Stone Governor Al-Makura's Convoy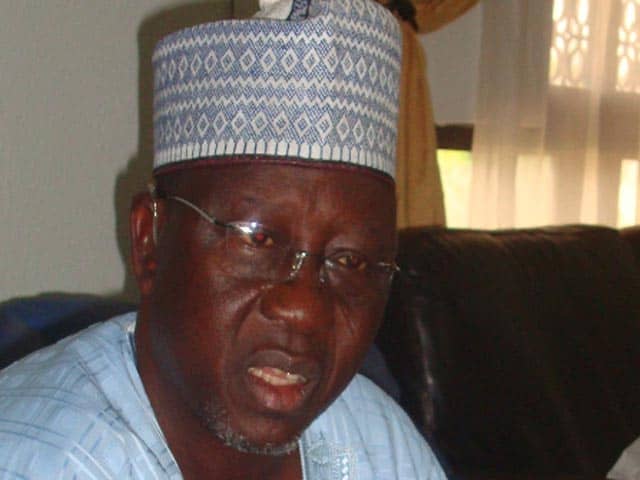 IDP Youths Attack Governor Al-Makura's Convoy
The convoy of Governor Umaru Tanko Al-Makura, was on Tuesday at the IDP camp in Agwatashi, Obi local government area of Nasarawa state, attacked by some angry internally displaced persons (IDPs), who stoned his convoy.
The angry youths were said to be taking out their frustrations on the killings by suspected herdsmen as well as the situation in the camps on the governor.
Naija News learnt Al-Makura had visited the camp, in the company of security chiefs in the state to evaluate and assess the situation which led to the killing of 32 persons by suspected herdsmen.
Trouble however started when some youths in the gathering started chanting different slogans when the governor was about to address the IDPs, forcing the governor to leave the camp.
The youths began to pelt the governor's convoy with stones, forcing the police to result to the use of tear gas to restore calm, the Cable reports.
In his re-action, Governor Al-Makura blamed the action of the youths on frustrations and adverse challenges in the camp.
"The reaction from the people is understandable given their plight and we have to use diplomacy to address the issues," he said.
"Continuing to address them at the moment would not yield any result so we have decided to avoid further altercation. However, this action appears to indicate that the problems in some of these communities are self-inflicted.
"If people can conduct themselves in this way, then you know that there is more to it than what is happening."
"If you will want to take laws into your own hands, you will be left to defend yourselves," he said.
"However as a responsible government desirous of protecting lives and property, we shall explore all avenues to ensure the safety of the people."
The governor however urged community leaders to promote respect for law and order in their respective areas.