I Was Betrayed By My Appointees After Losing The 2014 Election – Fayemi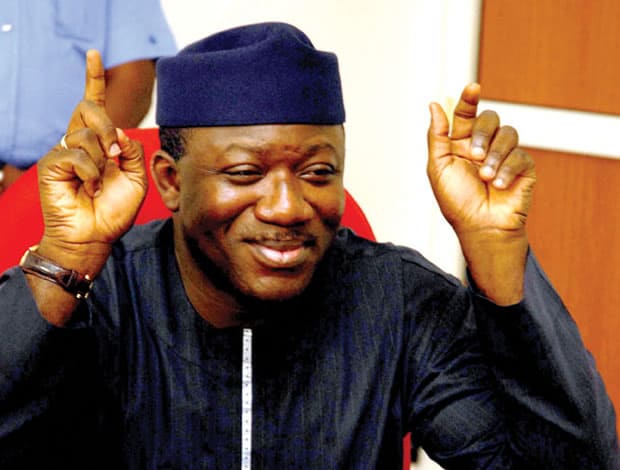 I Forgive My Betrayers – Fayemi
Dr. Kayode Fayemi, a former governor of Ekiti State, has on Sunday, revealed that he was let down by some people he appointed to serve the state after losing his re-election bid in 2014.
The former governor, however said he has forgiven the 'betrayers,' and also he took time out to apologize to those he offended while in office.
Fayemi spoke in Ode Ekiti, the headquarters of Gbonyin Local Government Area of the state on Sunday when Mr. Makinde Araoye, an All Progressives Congress chieftain, gave a social security package to some elders across the Ekiti South Senatorial District.
The All Progressives Congress Chieftain who stated that over 2,500 elders had benefited from the programme across the six local governments in the senatorial district, described the policy as a re-enactment of Fayemi's Social Security Scheme, where 25,000 people above 65 were paid N5,000 per month.
Materials distributed included rice, cash and other materials to cushion the effect of the hard-biting economic situation on the beneficiaries.
Fayemi, while addressing party members said, "After losing, many of them started spreading a rumour against me that I didn't allow them to operate freely in my government.
"There was no one that held office in my government that I teleguided. I allowed them to be free and enjoy their positions contrary to what they said.
"I have forgiven those that betrayed me just like I apologise to whoever I must have offended as a governor, because I am a human being and I can't claim to be infallible," he said.
Araoye stated that he started the programme as part of the ways to banish poverty from Ekiti and make the people live a normal life.
According to him, the poor performance of the present government is an eye opener to the Ekiti electorate and the need to vote wisely in the coming governorship election.
Promising to continue to initiate welfare programmes for the masses whether he sought elective positions or not, Araoye added that he was not doing the empowerment for political reasons.
"I am not doing this for politics, but I always get disturbed when I see our people wallowing in poverty. The present government has abandoned the people. He has stopped all the policies initiated by the past governments that touched directly on the lives of the poor.
"I started this programme nine years ago and I have promised to continue to do it for as long as I live. It is not good for you to do good to people only when you want to contest election."