Chief Olusegun Obasanjo: A Watchman Or A Ghost Haunting The Living?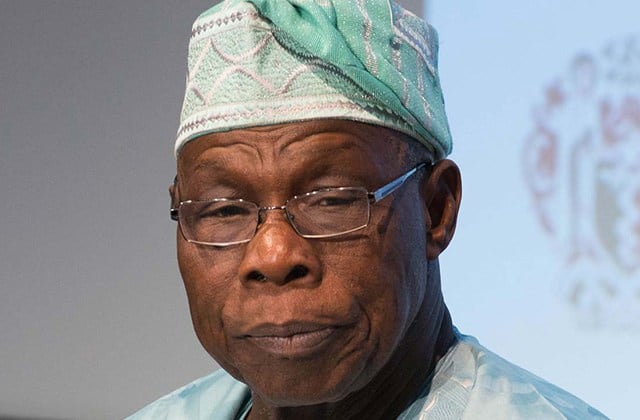 Chief Olusegun Obasanjo is a big Iroko In Nigeria and African Politics, history has a special place for his role in making Nigeria what it is today, Good or bad. Obasanjo, who doubles as a former Military Head of State and a Civilian President has always shown that he is indispensable when it comes to Nigeria Political narration.
He has succeeded in ensuring that his influence and grip on the affairs of his country does not wane. He is not only a strong Statesman, but also a kingmaker of some sought, he was instrumental to the election of his successor, Musa Ya'radua and those who came after him, including the current President of Nigeria, President Muhammadu Buhari.
The role of Chief Olusegun Obasanjo in the situation Nigeria finds herself might be controversial, it is however obvious that the statesman is passionate and patriotic about this country. Nigeria seems to be the first and second in his mind. From the moment he joined the Nigerian army; to the courage of fighting for the unity of Nigeria during the civil war; the risk of been the head of state; his regime as the Nigerian Civilian President, has shown that he has Nigeria in mind at all time and always watching out for the best interest of the country.
In his is Memoir, "My watch," Chief Olusegun Obasanjo stated that is has been appointed a watchman over Nigeria. According to Him, "As I grew up, I started to realize that the position that destiny wished for me was that of a captain and a watchman… A watchman is a leader" He added further that "A watchman, during his watch, must be alert, spot danger and raise an alarm as necessary or he must attack the intruder and be part of – and indeed be in the Vanguard of – the defending force." Obasanjo has lived up to all these attribute as far as we know, while in office and when he was out of Aso Rock.
The Former President has always shown to the world that Nigeria is his responsibility. Apart from ensuring that he facilitate the emergent of leaders he feels are suitable to lead Nigeria, he has to a very large extent influence the decisions they made. Right from Musa Yaradua's Administration, he has either been an authoritative adviser or an ardent critic of the government in Power especially when he seems not to see eye to eye with those in power. Chief Olusegun Obasanjo would criticize a leader he feel have failed the people even if he facilitated their emergence of such a leader.
President Obasanjo is no doubt a father figure to Nigeria, and fathers aren't perfect. He has taken it as a responsibility to instruct Nigerian President, past and Present just has he would instruct his political sons. Personally, I have realized that fathers instruct their sons not to make the same mistakes as they have when they were just like them.
Some time they do not acknowledge these mistakes, but insist that their successor do not make the same. This is the case of Chief Obasanjo. While he was in government, he make a lot of mistakes, even though he never acknowledged he had failed Nigeria in some, and he therefore making sure that his mistakes are not replicated by his successors, hence his continues intervention in Nigeria politics as often as possible.
When Obasanjo took over from the Military government, Nigeria felt that the morning has dawn, nurturing new hope as they grace the new millennium. He was believed to be the Joseph that would save the country from the famine of poverty, lack, unemployment, insecurity and suffering, but unfortunate for the country, he followed the undemocratic, and corrupt precedent set by past military government.
President Obasanjo have never refuted the claims from many quarters that his government is the most corrupt government since Nigeria's emergent as a democratic nation. In fact, many has called for his prosecution. However, it seems so easy for him to accuse former president Goodluck Jonathan of Corruption, and also ensuring he is voted out of power for been incompetent.
Though we can see sincerity in the former president's campaign to ensure Nigeria is what she should be, but Nigerians are left in doubt when they look back at the period he was the president of the Nation. His regime was alleged to be plagued by corruption and misappropriation, reports have it that his government had more incidences of corruption than any government since democratic rule in 1999. As a matter of fact, the Governor of Ekiti State, Ayodele Fayose dubbed him the father of corruption in the country.
Even though we must acknowledge the fact that he established the anti-corruption body Economic and Financial Crimes Commission to ensure the prosecution of corrupt officer, there is the popular opinion that this commission was a bulldog unleashed against those that are not in the good books of the president.
President Obasanjo have been accused of always wanting to be in control at all time. Whenever he is not been consulted for advice, or sidelined by those he had successfully pushed into the corridor of power, he automatically becomes the enemy of the government. Chief Olusegun Obasanjo quit the People Democratic Party when it became obvious that he was no longer a force to reckon, with Jonathan calling the shots; He left a party he created with his comrade, a party that gave him the platform to running for presidency in 1999, a party he was totally in control of when he was president.
Chief Obasanjo, if indeed was a watchman, would have been the needed change while in government, a period he could redirect the course of Nigeria to it desired destination. Not now when how has no grip on power. The truth remains that Chief Obasanjo must live up to the expectation of a watchman by not criticizing successive government but also acknowledging that he failed as a watchman when he was in power. He needs to acknowledge that he was as guilty as those that came after him in the management of the country.
Being a watchman goes beyond haunting present political leaders with letters of condemnation and disappointment, or imploring Nigerians not got vote for those in power, it also entails taking responsibility and acknowledging one's shortcoming. For Obasanjo not to be a politically ghost haunting the living, he must be penitent for failing when he had the opportunity to make the different, and like a father instruct the son learn from his shortcoming. His usual act of supporting candidates to the point of victory and withdrawing his support when they are in office would continue to hit up the politics of the country. Nigerians respects Obasanjo, but they also want him to lead by example
Source: Naija News