Tailor Apprehended With Three Human Skulls In Ilorin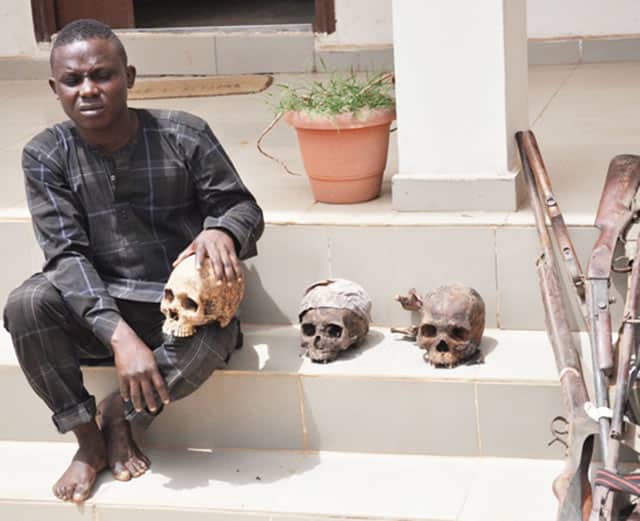 Man Caught With Three Skull On His Way To Ilorin
Mr. Suleiman Ajenifuja, a 32-year-old tailor in Lagos state, has been caught with three suspected human skulls.
Suleiman who is a father of two, also claimed to be working as a street sweeper in Lagos, stating that he was on his a way to meet an Islamic cleric when he was apprehended.
He said he combined street sweeping with tailoring, and further clarified his aim of using the skull was to get more customers to his business. Ajenifuja said a friend connected him to the Islamic cleric.
He said, "I am a tailor, but I also work with the Lagos State Government as a street sweeper from 11pm to 2am. While I was working one night, I saw a bag containing these things (the skulls). I initially wanted to drop the bag, but someone told me that the skulls could be used for some things.
"I contacted one of the boys that we usually talk together, named Saheed, and he gave me the Alfa's phone number. When I called the Alfa, he told me to come to Ilorin. I have never been to Ilorin before, but he asked me to alight at a particular place where he would come to pick me.
"He had earlier asked me what I wanted to do with the items and I told him that I wanted what would bring more people to my shop."
Mr. Ado Lawan, the Kwara State Commissioner of Police, who paraded Ajenifuja along with other criminal suspects in the state, made it known that he was arrested on March 26 by operatives of the Federal Highway Patrol Team of the command, led by Mr. Erumebekakhue Benson.
He added that the team intercepted a commercial vehicle conveying seven passengers en route to Ilorin from Lagos. He said when the passengers were searched, three skulls wrapped in a sack were recovered from a black bag belonging to Ajenifuja.
According to him, the suspect admitted to being the owner of the exhibits and claimed to be taking them to Ilorin from Lagos for ritual purposes.
The CP said the suspect would be arraigned after investigation.
Meanwhile, the CP also revealed that the command had, during the ongoing mop up of arms, recovered 51 firearms from members of the public who responded to the directive of the Inspector-General of Police, Mr. Ibrahim Idris, for them to surrender all unauthorised firearms.
He said the firearms willingly submitted included 32 single-barrelled guns, four locally-made cut-to-size single-barrelled rifles, eight locally-made single-barrelled guns, three cut-to-size double-barrelled guns and one AK-47 rifle.
Others are one double-barrelled gun, one English pistol, and one locally-made single-barrelled pistol with two cartridges.
Ado said, "The Kwara State Police Command wishes to inform the public that the enforcement of the mop up and recovery of illegal and prohibited firearms still in possession of such individuals is ongoing.
"Anyone who fails to voluntarily surrender them will be arrested and prosecuted.
"We wish also to inform members of the public of the extension of the date of withdrawal of all police personnel attached to very important persons, government officials, corporate organisations, political office holders, has been extended to April 20, 2018.
"This is to enable the affected officials to reapply for re-validation of the authority through the CP, Kwara State, for IG's approval."