Fulani Herdsmen Attacks: Federal Government Not Doing Enough – Wole Soyinka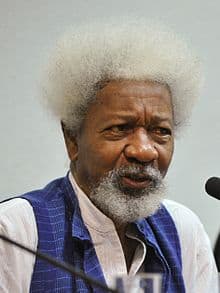 Nobel Laureate, Prof. Wole Soyinka, on Thursday condemned the spate of killings and kidnappings in several parts of the country.
Prof Wole Shoyinka made his anger for the frequent killings in the country known while speaking at a programme "The Ripples Dialogue :Rebuilding a Divided Nigeria. "
Soyinka said the government's response to the security challenges was poor, especially those associated with herdsmen.
He said it was bad for herdsmen to invade and kill people across communities in the country to graze their cattle
He described wanton killings of innocent Nigerians by criminals and herdsmen as "homicidal fiesta", saying the situation was unfortunate.
"The Lake Chad Basin is receding.The water is drying up. But that should not be a reason for herdsmen to attack people in Bayelsa, down in Oyo and Ogun, that should never be an excuse," he said.
News Agency of Nigeria reports that he also condemned the recent abduction of the Dapchi School girl. He stated that the horrible event would have been averted if security for schools in the trouble state were provided.
On  the myriads of problems facing the country, Soyinka said Nigeria would be a better country if leaders were committed to service and the welfare of the people.
The Nobel Laureate, however, said the followership also had its share of blame for some of the problems.
Naija News Understands that Prof. Soyinka said that Africans are to blame for the "Shit hole" remark the President of the United State, Donald Trump made about Nigeria and other African nations.
According to him, if Nigerians had made the country work, Trump would not have had the opportunity to use such derogatory term to refer to the country.