-APC Rivers chapter, urges members to work together for the party's progress and unity.
-The party also promised to sanction any member that attacks Rotimi Amaechi.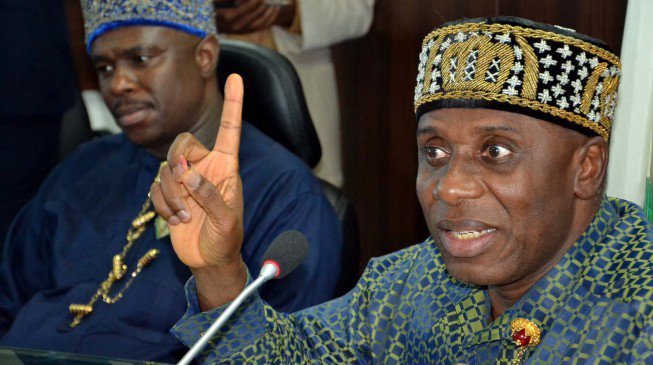 APC confirms Amaechi as the leader of its Rivers state chapter.
The Rivers state chapter of the All Progressives Congress (APC), has vowed to impose appropriate punishment on any of its members that launches verbal attacks against the minister of transportation, Rotimi Amaechi.
Though the party recognizes the fundamental human right of its members to free speech, it urges them not to abuse the right and to rather focus on working for the party's unity.
The warning issued to members is contained in a statement issued by the Rivers state chairman of the party, Davies Ikanya.
The statement reads:
"This class of leaders in their quest for political relevance have not ceased on daily basis to disparage the person and personality of Rt. Hon. Chibuike Rotimi Amaechi, erstwhile Governor of Rivers State and incumbent Minister of Transportation and the undisputed leader of our party in the State.
"That the party leadership decides to keep calm and quiet all these while shouldn't be misconstrued as a sign of weakness to warrant these ceaseless attacks on our party leader, Rt. Hon. Chibuike Rotimi Amaechi whose single mission is to build a virile, vibrant, cohesive, united chapter of the party capable of salvaging the State from the hands of undemocratic elements currently pervading and exhibiting all manners of bad governance inimical to the growth and prosperity of our dear State.
READ ALSO: Gani Adams reveals plans for Yoruba nation
"As much as we will not discourage or hinder any member of our great party from exercising their powers of freedom of speech, association or movement but such speeches, movements or associations shouldn't result to stunted growth of our party both at the State and National levels.
"Let us for once warn and caution those concerned not only to call themselves to order but direct their subordinates and supporters to understand the limits they can be used to run down our party or bring down all the efforts we have collectively put in building this party to what it is today."