God is giving PDP a second chance-Bode George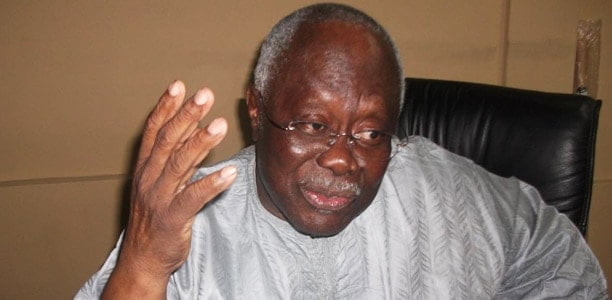 A chieftain of the Peoples Democratic Party (PDP), Chief Bode George, has cautioned the party to be aware of the second chance God has given it.
He disclosed this while addressing journalists in Lagos on Wednesday, adding that the December 9 national chairmanship election of the PDP should be utilised to right the wrongs of the party.
The former Deputy National Chairman who is set to declare his ambition for PDP chairmanship, said, "We are at the crossroads and if we take the wrong turn, we may not make it".
George included that the party almost lost its self-confidence after the by the All Progressives Congress, during the 2015 general elections.
The chieftain said, "God is giving the party a second chance after its defeat at the 2015 polls after a 16-year rule.
READ ALSO: Lagos PDP leader decamps to APC
''If you're suddenly hit by a fast-moving train when you don't expect it, the shock itself is incalculable. We went into a spin and almost lost confidence in ourselves".
He expressed gladness over the court's resolution of the conflict about the party's .
George warned that time was not on the side of the PDP and so cannot afford to experiment at this stage.
"It's a major decision, not only for the party, but for the entire Nigeria," he said of the election.
"It is the responsibility of the members to take a deep breath and look at who the cap fits".
"We are not saying anybody should not contest but because of empathy for the South West, people said it's their turn," Bode George added.