We will shut down government activities if Kanu is not re-arrested – Northern group warns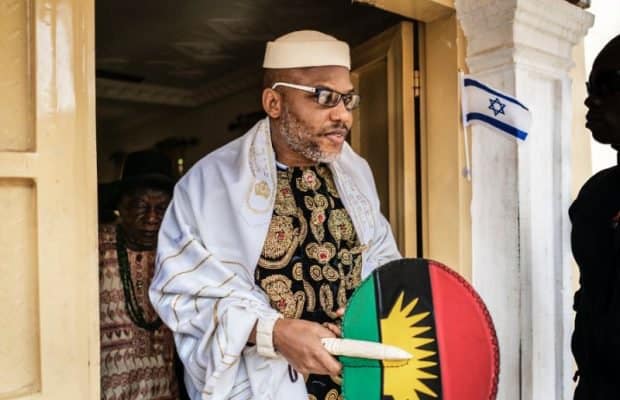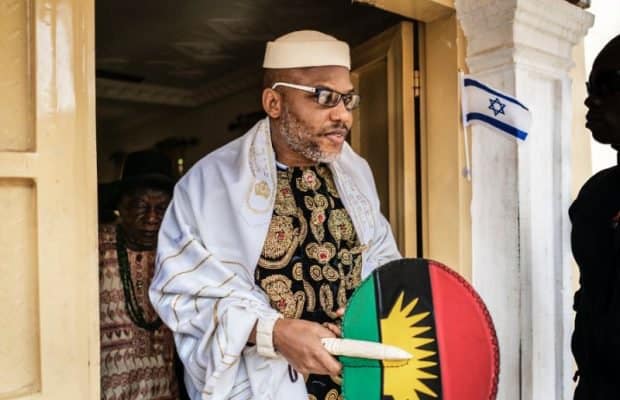 Members of the Arewa Youth Assembly(AYA), yesterday in Abuja, gathered at the Unity Fountain in the Central Business District at about 9 a.m. and marched to the junction of the Presidential Villa to demand the arrest of IPOB leader, Nnamdi Kanu by the government.
This Follows the lapse of the 10-day ultimatum issued to the federal government to order the arrest of the leader of the Indigenous People of Biafra (IPOB), Nnamdi Kanu, over what the group termed gross violation of his bail conditions.
Though the northern youth group staged a peaceful protest in Abuja, a team of police officers monitored the group's procession from a distance  to forestall the breakdown of law and order.
READ ALSO: #ResumeOrResign: Leave Buhari alone, Senate warns protesters
The group had in a statement on July 27 threatened to shut down federal government activities in Abuja if Acting President Yemi Osinbajo fails to order the arrest of Mr. Kanu who is on bail.
Mr. Kanu, who is championing a Biafran secessionist call, is being prosecuted for alleged treasonable offences.
Members of AYA said the IPOB leader has been violating his bail conditions and that his behaviour represents a threat to the peaceful coexistence of the people of Nigeria.
Recall that Mr. Kanu was granted bail by a Federal High Court in Abuja in April on stringent conditions, some of which is to avoid speaking with the press or being in a crowd of more than 10 persons- conditions which the IPOB leader has violated on several occasions.
Speaking on behalf of the group, Mohammed Salihu, reiterated their threat to shut down government activities in Abuja if the acting president fails to act as it had demanded.
"I will be very brief. We organised this peaceful protest as a warning and reminder to federal government to arrest Nnamdi Kanu now.
"The Arewa Youth Assembly will not make a U-turn on its decisions. We intend to carry out our proposed plans and nothing can stop us.
"We will mobilize thousands of youth to shut down government activities in Abuja after our congress meeting next week Saturday," he said.
Nnamdi Kanu himself has put it on record that he is not afraid of been re-arrested as he believes his incarceration would hasten the freedom for Biafra.
Download NAIJA NEWS app: