Do not underestimate Fayose's threat against the APC -Olusegun Osoba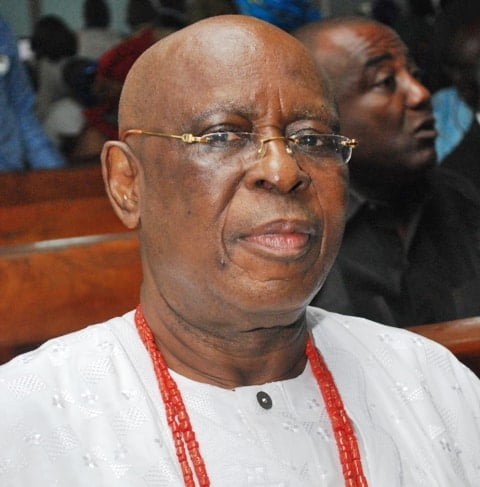 -Osoba advices APC members to unite ahead of the 2018 governorship elections.
Former governor of Ogun State, Chief Olusegun Osoba, has called on the All Progressives Congress (APC) leaders and party members 2018 elections to note that the results of the Ekiti and Osun elections in 2018 will ascertain the outcome of the elections in Ogun and Oyo states in 2019.
Osoba  made his assertion on Wednesday while addressing party leaders and supporters in his Ibara Government Reservation Area, Abeokuta residence.
He counselled the party not to underrate the Ekiti State Governor, Ayodele Fayose's threat, declaring that the Peoples Democratic Party (PDP) would defeat the APC in the governorship election holding next year.
READ ALSO: Osinbajo is sick, his nightmare just started – Fani-Kayode
He called on the APC to to work in collectively  to win the elections, adding that the Ogun State section of the party is yet to zone the governorship slot in 2019 to any senatorial district.
The APC leader also added that irrespective of the status of any perso, no single individual within the party, has the power ascertain where the next governor of the state would come from.
He emphasised that the Ogun East Senatorial District was eligible to contest the governorship seat just as the Yewa-Awori people of Ogun West.
According to Osoba,  "Don't let us underestimate Fayose. You must fight him. We cannot afford to play with Osun either. Those two states are important. If we can do clear primaries in these two states and APC wins, then whatever happen in Ekiti and Osun must happen in Oyo and Ogun when it gets to our turn to deliver.
READ ALSO: #ResumeOrResign: Nollywood Actor Jim Iyke joins protesters in Abuja
"As a party, we have not zoned the governorship seat. There was nothing like zoning of offices in the past. We give opportunity to anyone to aspire, but we have always used maturity to settle it among us. That is unwritten, it is a convention. It is not the rule and nobody will go against the agreement.
"Now, so many things have divided us. The Ijebu now come together to be claiming the Ijebu agenda. We must leave the field open. We must examine the Yewa and Ijebu agenda".
Osoba advised the party on the need for unity among members, cautioning that if any one set up a structure outside the party, it will be detrimantal and counterproductive for the APC.
Download NAIJA NEWS app: