Badoo: Lagos Monarch Arrested in Relation to Cult Killings, Confesses to Crime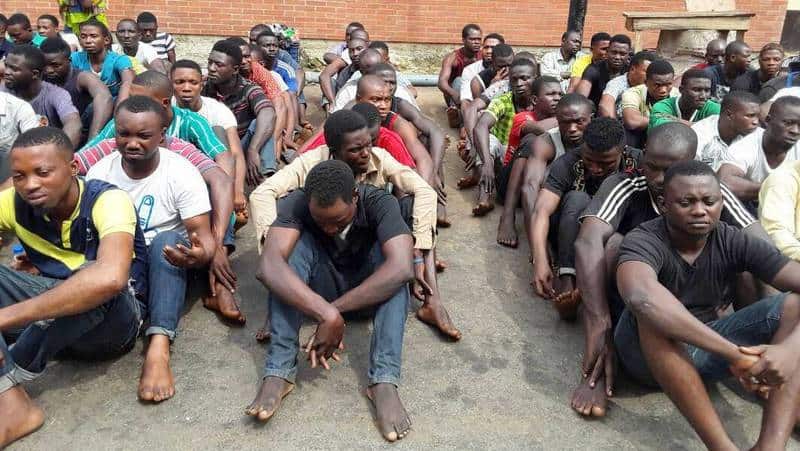 The Lagos State Police Command has arrested a monarch in relation to the fresh attack reportedly perpetrated by the dreadful 'Badoo' cult group on a family in Ibeshe area of the state.
The accused, Alaka Abayomi, who is the Baale of Ipakodo, a town on the outskirt of Ikorodu, was arrested sequel to intelligence reports that he was working with the dreaded group.
The Badoo gang has killed and maimed several residents of the Ikorodu axis of Lagos state.
The arrest of Mr. Abayomi, a resident of Magodo area of the state, led to the raiding of a shrine by Police. The shrine is allegedly owned by the murderous cult group in Agbowa area of  Ikorodu  on Monday.
On Sunday, the Badoo group had gruesomely murdered four members of a family in the Ikorodu area of the state.
READ ALSO: Badoo: 18-Year-Old Suspect Charged to Court
Following the invasion of the shrine in Agbowa, the Lagos State Police Command said that three suspected members had been arrested.
Spokesperson of the Police Command, Olarinde Famous – Cole, revealed that a joint team of the police uncovered buildings, which had different kinds of charms, used by the gang.
In a statement released on Monday, Mr. Famous-Cole said that the suspect confessed to knowing others who own shrines in the area and led the police to the cult's shrine in Agbowa town.
"Different ritual objects and charms were recovered in each of the five buildings in the compound which was fenced with charms to scare away intruders," he said.
READ ALSO: Breaking: Police discover Badoo shrine in Ikorodu
"The compound was always under lock and key. The police also made two different arrests as surveillance has been heightened."
The statement explained that plans are underway to expose members of the gang and discover more hideouts.
Earlier, Naija News  reported the Lagos police command warning Lagos residents against living in isolated and unsafe areas, prone to hoodlum attacks.
Scores of people have now been confirmed killed in the area by suspected Badoo members despite the police arrest of dozens of suspects.