Aisha Buhari advises Governors' wives to accustom future assured project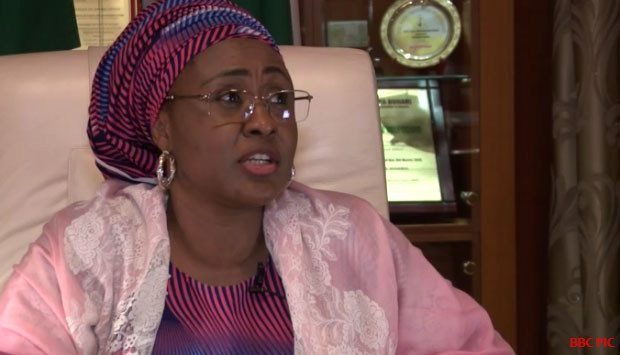 The Wife of the President, Hajiya Aisha Buhari, has advised Governors' wives on Thursday, to accustom her project, ''Future Assured Project'', to increase the fight against human trafficking in the country.
NAN reports that the first lady gave the advice at a public lecture in Abuja on anti- trafficking, to commemorate the week-long 2017 World Day against human trafficking.
Represented by Mrs Grace Shema, Coordinator, Women and Youth Empowerment Programme office of the the President's wife, Buhari said that the programme would empower women to be self reliant.
She further explained that the project was targeted at saving vulnerable children to any form of abuse.
Read also: Aisha Buhari: The Hyenas and The Jackals Will Soon Be Sent Out Of The Kingdom
"I am calling on the wives of governors to initiate action targeted at the elimination of human trafficking through future assured programme in their states.
"Human trafficking is alien to our culture in Nigeria and we must do everything possible as a people to completely eliminate it from the society," she said.
The wife of the president described human trafficking as a crime that violated the essence of humanhood, adding that it must be condemned out rightly.
Earlier in her remarks, the Director-General, National Agency for the Prohibition of Trafficking in Persons (NAPTIP), Julie Okah-Donli, said human trafficking was a threat to human, national and international security.
Read also: President Buhari is Regaining His Strength
Okah-Donli said trafficking in persons desecrated the human person and fueled other crimes such as drug trafficking, arms smuggling and terrorism.
"I must confess that our response to trafficking in persons has been reactive and designed to deal with the consequences of the scourge rather than its root causes.
"This makes our current preventive responses a piecemeal and uncoordinated.
Read also: Buhari is Eager to Return and is Grateful to Nigerians -Ortom
"We are therefore calling for a much more strategic approach that addresses poverty and social exclusion by government at all levels," she said.
According to her, the phenomena of human trafficking are multifaceted, dynamic and cost intensive which must be dealt with enlightenment and empowerment therapy. NAN reported.