Suicide Bomber Kill 30 In Madagali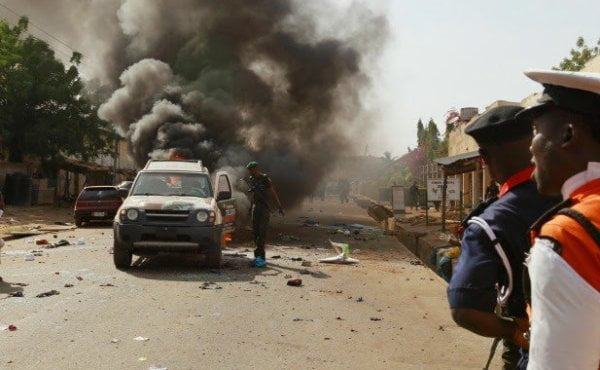 No less than 30 people lost their lives on Friday, to a twin bomb blasts at Madagali Market, Adamawa by two female teenage bombers .
According to Maj. Badare Akintoye, Public Relations Officer of 28 Task Force Brigade, Nigerian Army, Mubi, 30 persons died and many others were injured and receiving treatment at Mubi and Michika general hospitals.
A Statement on the incident by the NEMA Head of Media and Public Relations, Mr Sani Datt, which did not give number of dead persons, stated that 67 people were injured.
Adamawa Government, through the state Commissioner for Information, Mallam Ahmad Sajoh, condemned the incident.
Sajoh said Gov. Muhammadu Bindow has directed all relevant agencies to mobilise and move to render support to the affected.
He said government would take responsibility of the medical bills of those affected, adding that reports reaching him indicated that four out of the 67 injured had passed away.
The News Agency of Nigeria (NAN) reports that the Madagali blast was coming nearly a year after a similar blast in the market which occurred on Dec. 20 2015.
Mr Sa'ad Bello, the National Emergency Management Agency (NEMA) Coordinator in charge of Adamawa and Taraba, had earlier confirmed the twin bomb blasts,
Bello, however, said the number of casualty was yet to be ascertained.
Also confirming the incident, the Chairman of Madagali Local Government, Alhaji Yusuf Mohammed, said the incident which occurred around noon was at the animal and grains sections of the market.
"Certainly there is casualty but I can't really give you a figure for now," Mohammed said.
A resident of Madagali, who simply identified himself as Hamma, said many people were affected as the blasts occurred around the busy areas of the market.
"You know today is our market day. I just pray God to minimize the casualty," Hamma said.
Also, Police spokesman Othman Abubakar confirms the blasts but says he has no toll of victims yet.
Boko Haram Islamic extremists are blamed for the attack Friday morning on the edge of the group's Sambisa Forest stronghold, which Nigeria's military has been bombing ahead of ground assaults.
Since the military has dislodged the extremists from towns and villages this year, the insurgents have been attacking soft targets.
Madagali lies some 276km from the Adamawa State capital, Yola.
The town, which is close to neighbouring Borno State, was one of several others held by Boko Haram at the height of the group's brutal insurgency.
The latest blast is the third in Madagali, following attacks by two female suicide bombers on December 28, 2015, at a busy motor park.
---
---
© 2023 Naija News, a division of Polance Media Inc.