'We Must Grab It' – John Enoh Insists Super Eagles Must Qualify For 2026 World Cup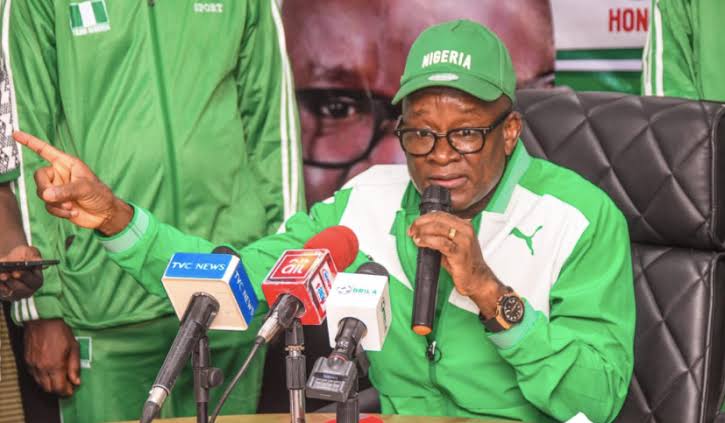 The minister of sports development, John Enoh, has said Nigeria cannot afford to miss the 2026 FIFA World Cup, after failing to qualify for the 2022 FIFA World Cup.
John Enoh stated this after the Super Eagles of Nigeria suffered two draws in a row to lowly-rated Lesotho and Zimbabwe, two teams they should have beaten with ease.
The Super Eagles performed so woefully that they had to come from a goal down to equalize in the two games, which has forced most fans of the team to start writing them off.
This means the Super Eagles have managed just two points in three games ahead of their third game in the qualification series against South Africa in June.
Currently, South Africa, who have played just a game in the qualification series, are leading Group C with three points ahead of their second game against Rwanda on Tuesday. This means South Africa has the upper hand in the qualification series.
Hence, in an event organized by the Nigeria Football Federation (NFF), John Enoh made it clear that the Super Eagles are not only expected to win the 2023 Africa Cup of Nations in Ivory Coast but also to qualify for the 2026 World Cup.
The sports minister said: "There is also the World Cup qualifiers which have started, and like everybody has said, not a very good game, but that is gone.
"Not just winning the AFCON but it's a great deal for the government that we are at the World Cup. We cannot afford not to be at the World Cup. And ten years after winning the last AFCON, I believe this is Nigeria's time and we must grab it.
"The government and football-loving people of Nigeria take the qualification for the 2026 World Cup very seriously and want the Super Eagles to qualify. Having missed out on the 2022 World Cup in Qatar, qualifying for the 2026 World Cup is not negotiable."
---
---
© 2023 Naija News, a division of Polance Media Inc.