Independence Day: Police Counter IPOB, Urge People In Southeast To Enjoy October 1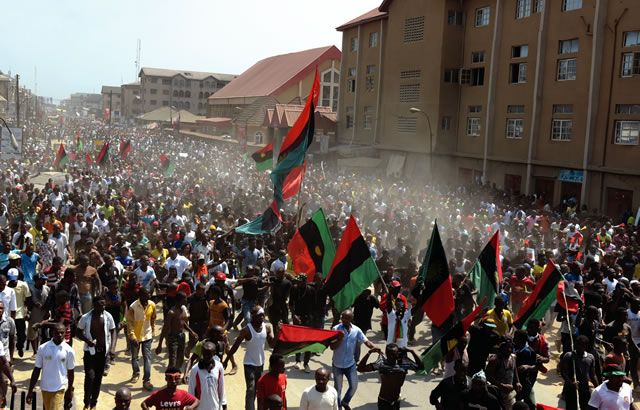 The Ebonyi State Police Command has told the people of the Southeast to go about their lawful businesses on October 1, contrary to a statement from the Indigenous People of Biafra (IPOB), threatening that no Independence Day will be held in the region.
Recall that on Friday, September 29, IPOB's Director of Media and Publicity, Emma Powerful, released a statement threatening that "Anyone seen celebrating the Nigeria flag Independence in Biafraland will regret his or her life."
The group's statement claimed that the Federal Government of Nigeria has not shown the region that it is part of the country.
The group's statement reads in parts, "As Nigeria's government plans to celebrate her flag Independence from Britain, we advise eastern region governors and political leaders to shun the October 1st Independence celebration in our region.
"Moreso, we advise Biafrans not to attend any Independence celebration anywhere within Biafra territory or outside of it. Hence, IPOB has banned the Independence Day celebration and flying of Nigeria flags in any part of Biafraland on October 1st, 2023.
"After 63 years of flag independence of Nigeria from Britain, there is nothing to show for it. Ordinary electricity, security, and good roads Nigeria can't provide for its citizens.
"As little as conducting free and fair election has been impossible in the most fantastically corrupt nation in the world called Nigeria. Every institution in Nigeria has been polluted and corrupted by bribery and stealing."
In reaction to the threat, the Ebonyi State Police Command has urged the residents of the region to report any suspicious movement to the nearest police station as they go about their lawful businesses.
The police promised to provide round-the-clock security during and after the Independence Day celebration on October 1.
"Residents should go about their lawful businesses without fear of threat or intimidation, and report any suspicious person or thing to the nearest police station", Ebonyi state police command spokesperson, Chris Anyanwu, as quoted by the Punch.
---
---
© 2023 Naija News, a division of Polance Media Inc.