Wike To Recover Ground Rent From NNPC, CBN, Police, FIRS, Others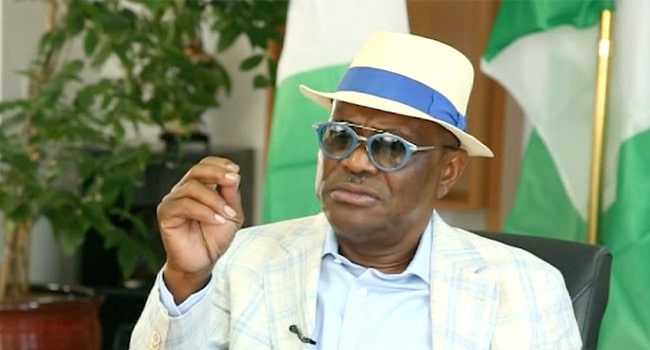 The Minister of Federal Capital Territory (FCT), Nyesom Wike, is set to recover outstanding ground rents owed to the Federal Capital Territory Administration (FCTA) by some private and government institutions.
According to a list recently published by the FCTA, these institutions owe a backlog of ground rents for several of their offices in the nation's capital, Naija News reports.
The FCTA said the Central Bank of Nigeria (CBN) owns an outstanding of over N32 million in ground rent for its headquarters located in the Central Area of Abuja and another N20 million for its CBN office in Garki II.
The administration said the CBN subsidiary, the Nigerian Security Printing and Minting Company (NSPMC), owes a ground rent of N41.99 million for its office on Plot 54, Garki II, Abuja.
It revealed that the Nigerian National Petroleum Corporation (NNPC) owes N5 million for its head office in the central area, and the Nigeria Ports Authority (NPA) had an outstanding of N7.5 million for its property on Plot 126, Central Area.
The administration also disclosed that the Federal Inland Revenue Service (FIRS) owed N1 million for its office at Wuse II and debts for a number of its offices in the capital city.
Also, the FCTA stated that the Nigeria Social Insurance Trust Fund (NSITF) has a debt of N7.5 million for its office located in the Central Area, while its management board offices also in the same area have a cumulative debt of N13 million as debt.
It said the Nigerian Agricultural Insurance Company Limited has an outstanding ground rent of N8 million for its office on Plot 1423, located in the Central Area.
While the Bank of Industry (BOI) Limited has a backlog of N20 million and another N12 million ground rent debts for its offices located at the Central Area and Asokoro, the defunct Bank of Commerce also bears an N10 million ground rent debt.
Similarly, some Federal Ministries, including Finance, Environment and Foreign Affairs, among others, had outstanding ground rents of N4.9million, N9 1million and N16.1million, respectively.
After several years of nonpayment, security agencies like the Nigerian Police, Civil Defence, and National Intelligence Agency, also had outstanding ground rents of N30,533,906, N2,461,866 and N1,589,197, respectively.
Multinational institutions like the African Export-Import Bank, Afreximbank, and the African Development Bank also had significant ground rent debts for their Abuja regional office, of about N702,728 and N456,820 to their names.
The FCTA also revealed that the Incorporated Trustees of IBB Golf and Country Club, however, top the list of ground rent debtors with a backlog of N184.2 million.
So far, the administration said it has so far recovered close to N2 billion in ground rent since the two-week ultimatum was issued to property owners or risk having such properties revoked.
Reacting to the development, the Director of Information and Communication in the FCTA, Muhammad Sule, said there has been a surge in payment of ground rents since the minister threatened revocation and commenced publication of the debtors.
Sule said the collections from June to July were at the lowest level, but immediately after the minister's actions in August, ground rent earnings quickly rose to N500 million, growing steadily to over N1 billion.
He said by September 17, ground rents had generated almost two billion for the FCT Administration, precisely N1.9 billion, and the figure is estimated to double by the end of the month.
---
---
© 2023 Naija News, a division of Polance Media Inc.