All About Hannatu Musawa And NYSC Controversy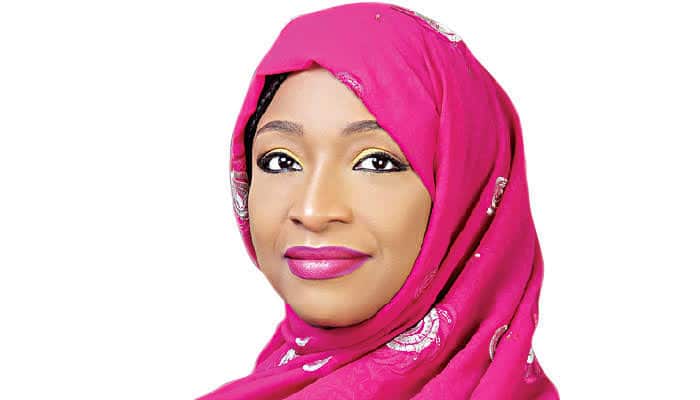 On August 24, 20223, Nigerians woke up to a bugging report that the Minister of Arts, Culture and Creative Economy, Hannatu Musawa, is a serving National Youth Service Corps (NYSC) member.
Naija News recalls that President Bola Ahmed Tinubu had, on August 16, sworn in Musawa and 44 others into his cabinet to drive the Renewed Hope agenda. Musawa had served as the Deputy Spokesperson of the All Progressives Congress Presidential Campaign Council (APC PCC) during the 2023 election.
Following the swearing-in, a Pro-Democracy and civil rights advocacy group, the Human Rights Writers Association of Nigeria (HURIWA), in a statement, said Musawa is still a corps member.
The group also berated the Senate for allowing Musawa, then ministerial nominee, to take a bow and go despite controversies surrounding her NYSC Certificate.
HURIWA added that the minister was posted to a law firm, Onyilokwu Onyilowa and Company, located at the old Banex Plaza in Abuja.
The group also recalled that in 2020, the Ahmed Lawan-led 9th Senate rejected Musawa's nomination by former President Muhammadu Buhari as the Commissioner representing the North West at the National Pension Commission (PENCOM) over her failure to submit her NYSC Certificate.
According to HURIWA, Section 13 of the NYSC Act stipulates that any Nigerian graduate below 30 who refuses to make themselves available for the compulsory one-year service has committed an offence "and is liable on conviction to a fine of N4,000 or face imprisonment for a term of two years or both."
HURIWA claimed Musawa abandoned her NYSC in Ebonyi State but later showed interest in completing it and was mobilised this year and posted to a law firm in Abuja, where she was serving before President Tinubu picked her as a ministerial nominee, and Senate confirmed her without proper screening.
Therefore, the group challenged the NYSC management to compel the minister to choose between completing the national service scheme and obtaining her Certificate or disengaging from the service and focusing on her new task as a Federal Republic of Nigeria minister.
Following the claim, some Nigerians accused Musawa of violating the NYSC Act, saying that it was a breach of the Act for any corps member to pick up a government appointment until the one year of service was over.
Reacting to the development, NYSC Spokesman, Eddy Megwa, confirmed the claim that the minister is undergoing NYSC, saying that she absconded when she was first mobilised for the scheme in 2003.
Megwa stated that engaging in partisan politics or affiliating with a political party during the service year was strictly forbidden.
However, the embattled minister, in a statement titled, "My personal statement on my status as a serving minister," said she had not broken any part of the laws of the NYSC. 
Musawa, who said her appointment by President Tinubu followed a barrage of media attacks and misinformation about her, also denied a viral statement confirming her NYSC status.
In an interview with Naija News, a Senior Advocate of Nigeria (SAN), Norrision Quakers, said Musawa cannot be charged for being a federal minister while she is still a corps member.
Quaker stated the frenzy on social media around the matter is unnecessary, stressing that the minister has not committed any criminal offence, as stated by some Nigerians.
The senior lawyer stressed that the minister had not violated any provisions of the 1999 Constitution as amended on the qualifications expected of a minister.
He said, "It is not a criminal offence; I don't know why the hue and cry on it. What does the NYSC Act say? Section 2 is very clear. It says that service is compulsory for every Nigerian who has graduated from school. What she has done is nothing criminal; she is still in service. There is nothing in the Nigerian law that says someone like her cannot become a minister.
"Section 147(5) of the 1999 Constitution states the qualifications for anyone to be appointed as a minister. It states that no one should do so unless he is qualified to be elected as a member of the House of Representatives. What are the disqualifications or qualifications for a member of the House of Representatives? You will find the disqualification provisions in Section 66, and none of this applies to her.
"The qualification provisions are stated in Section 65. There is nowhere in the constitution that states that a serving corps member cannot be appointed as a minister. All this hue and cry is not necessary."
Also speaking on the matter, Ifedayo Adedipe (SAN) noted that the provisions of the NYSC were not set in stone, saying that it was wrong for Musawa to take up an appointment while serving the country.
Adedipe stated that the minister's service can be either deferred until her term in office or that the NYSC gives her an exemption letter to enable her to continue in office.
He said, "I do not think you are allowed to have an alternative job somewhere, so I think that employment is wrong in that scope. What should happen if the president becomes aware? We will probably ask her to go back to finish her service."
---
---
© 2023 Naija News, a division of Polance Media Inc.