Tinubu Meets UN Secretary-General, António Guterres, Amina Mohammed In New York (Photos)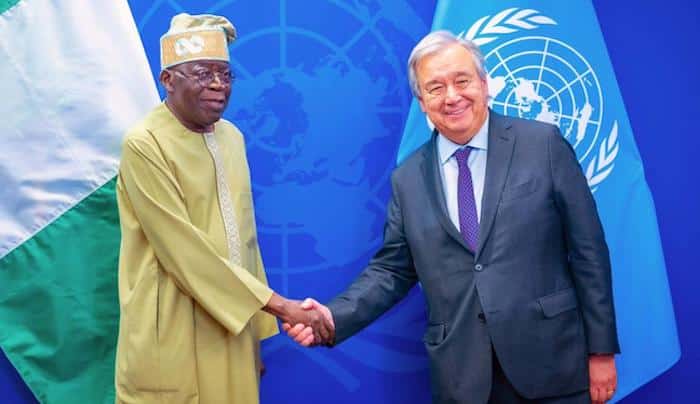 President Bola Ahmed Tinubu, on Wednesday, met with United Nations Secretary-General, António Guterres, in New York on the sidelines of the 78th session of the UN General Assembly (UNGA).
This is the first meeting between the two leaders since Tinubu assumed office on May 29, 2023, Naija News reports.
President Tinubu also met with the UN Deputy Secretary-General and a former Minister of Environment, Amina Mohammed.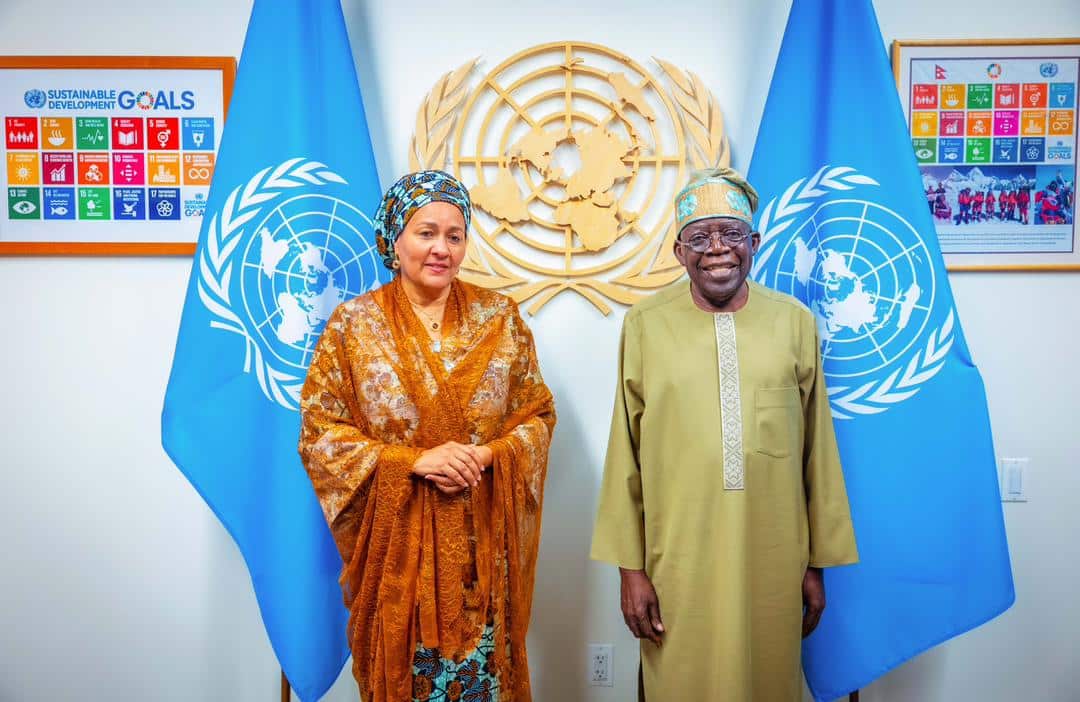 The meeting comes hours after President Tinubu addressed world leaders at the 78th session of UNGA, during which he highlighted the need to protect Africa's mineral-rich regions from exploitation and conflict.
Citing the example of the Democratic Republic of the Congo and the role of foreign entities in illegal resource extraction, Tinubu said unfair treatment and foreign exploitation had affected Africa's growth and development.
President Tinubu also emphasized the urgency for UN member states to take concrete actions against companies and individuals involved in illegal arms and mineral smuggling in and out of Africa.
The President expressed concern about the impact of resource pillaging on African nations, calling for international cooperation to end this injustice and eliminate poverty in the region.
He also emphasized Nigeria's readiness for business but also questioned the willingness of the world to engage in mutually beneficial economic partnerships with Africa, including direct investments, export opportunities, and debt relief.
The President mentioned the importance of building political consensus around climate change by highlighting actions that benefit the economy and the environment, such as local water management and irrigation projects.
Tinubu called on established economies to provide more public and private sector investment in Africa's preferred climate change projects and initiatives.
President Tinubu emphasized Africa's crucial role in the global community and urged the world to view Africa as a partner and an essential key to the world's future.
---
---
© 2023 Naija News, a division of Polance Media Inc.