Full Text: Tinubu Address Nigerians In Diaspora In USA (Photos)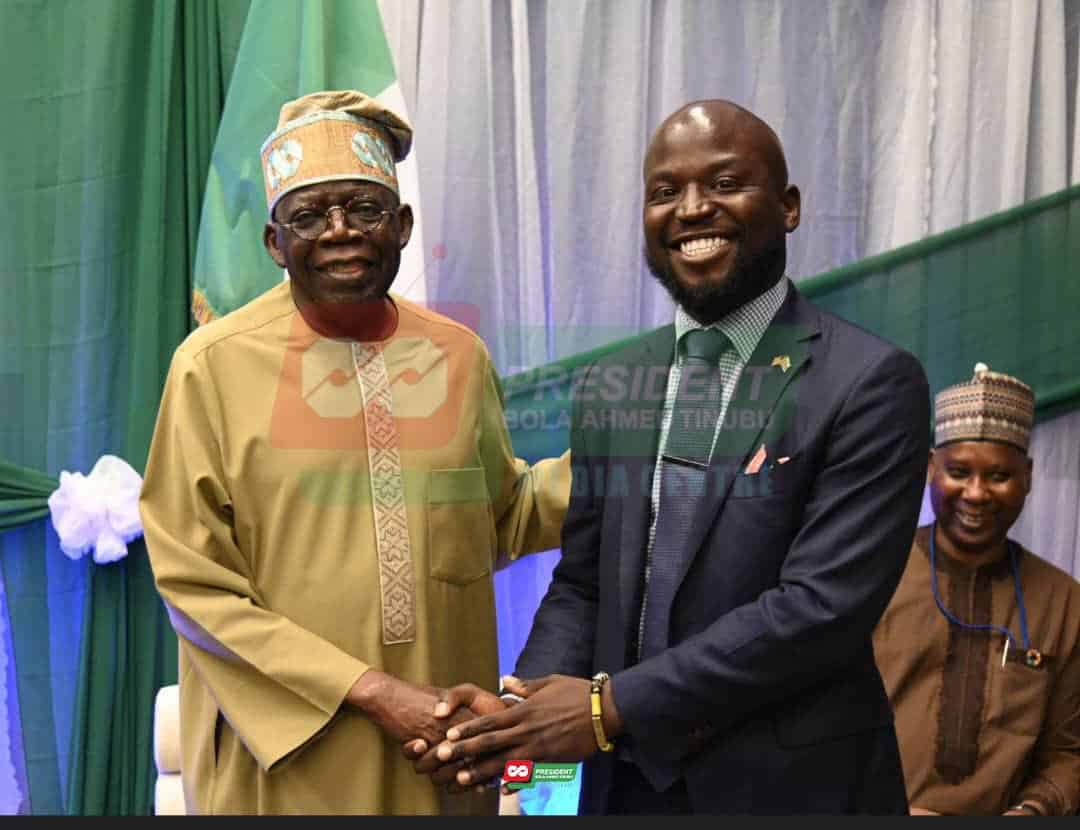 President Bola Ahmed Tinubu, on Wednesday evening, addressed Nigerians in the diaspora in the United States.
In his remarks, the president encouraged Nigerians in the U.S. to rise above failure by having a change of mindset for success in all their endeavours in life.
The president also expressed delight in the conduct of Nigerians who have continued to excel in their chosen fields in their host country.
He also encouraged Nigerians in Disapora to come back home to invest in the country, saying that there are a lot of business opportunities in the country.
Read the full speech below:
SPECIAL REMARKS BY HE PRESIDENT ASIWAJU BOLA AHMED TINUBU GCFR, TO NIGERIANS IN DIASPORA IN THE USA. SEPTEMBER 2023.
Protocols.
It gives me great pleasure to address you fellow compatriots, Nigerians in the Diaspora in the USA, as your President for the first time since my Inauguration in May 2023.
You will also recall that I was once in the Diaspora in the USA like you and returned home to contribute my humble efforts to national development. First I was elected as the Governor of Lagos state and now elected as President of the Federal Republic.
I understand that Nigerians in the USA are the most educated and successful of all the immigrants communities here.
You are resource endowed due to your excellence at work. You are also leading not only in the various technical spaces, but also several of you have contested elections and were successful.
Others have also been appointed into strategic high level governance positions. This is very pleasing to me and all Nigerians, and is marketing Nigeria positively both in the USA and globally.
May I encourage you to keep up the good works you are doing and to continue to excel in all your endeavours.
For Nigeria to move forward, we need the urgent contributions of all Nigerians both at home and those of you in the Diaspora as the world of today is a global village.
Those of you in the Diaspora must bring in your global exposure and technical expertise both as a catalyst and also as a sustainer for our accelerated development. You absolutely do not have an option to stay aloof to what we are doing at home to fast track the development of our dear nation, Nigeria. It is also in your enlightened self interest.
Since our Inauguration and take off as a government, we have launched our "Renewed Hope Agenda" and are in overdrive to make the desired, needed and urgent impact in the development of our nation.
We have removed the very controversial "petrol subsidy" that has impoverished us in the past, liberalised the economy by abolishing the multiple exchange rates for foreign exchange, and are moving forward towards freeing our economy from rentier controls that have impeded our progress in the past.
We have also restored the Student Loan Scheme as an elixir to the capacity development of our teeming and energetic youths. We are also re-engineering our security architecture for purposeful results so as to secure our nation and guarantee its peace, for without peace our efforts in national development will be futile.
These and many other reforms are being developed and implemented with a view to create an enabling environment for the much needed accelerated development of our people and nation for which I have campaigned for all my life and for which the Nigerian people have given me their mandate.
May I also say that these reforms may come with some short term pains to our people, for which as a government, we are mindful of and are working assiduously to ameliorate these through the institutionalization of some palliative measures.
May I therefore call on you and all Nigerians in the Diaspora to join hands with us to move our country forward. We have established the Nigerians in the Diaspora Commission (NiDCOM) as per your request to be a bridge to link you with Opportunities for your engagements with the development of Nigeria.
Many of you, I understand, are already positively making use of the Commission and its programmes and are investing in Nigeria in the Education sector, Agriculture, Transportation, ICT, Oil and Gas/Energy, Health and Allied Services, Industry, etc.
This is commendable and in your enlightened self interest. May I call on you to do more and to mobilize fully for these engagements so that you also reap the accruing returns on your investments.
Our government will be all inclusive and continue to engage with all Nigerians especially our Diaspora for national development.
Let me conclude by encouraging you to continue to be our ambassadors-at-large, excel in your endeavours and always remember home, by giving back of your resources, talents, skills and global exposure to the development of Nigeria.
Remember, "Home is Home" and you should never forget Home.
Thank you and God bless you. God bless the Federal Republic of Nigeria.
See some of the photos from the event.
---
---
© 2023 Naija News, a division of Polance Media Inc.