'What Tinubu Told Governors About His Support For Akpabio, Abbas'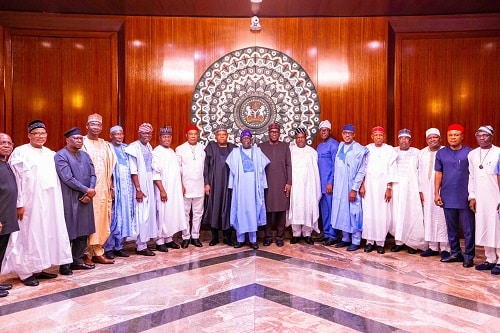 President Bola Tinubu of Nigeria convened with 36 state governors, members of the Nigeria Governors' Forum, on Wednesday at the Presidential Villa.
In attendance were governors from states including Zamfara, Kano, Taraba, Kogi, Ogun, Nasarawa, and many others, while Edo and Niger states were represented by their deputy governors.
A source that spoke with Daily Trust on the outcome of the meeting said that Tinubu used this opportunity to seek support from the governors for his chosen candidates for leadership in the 10th National Assembly.
Tinubu is reportedly backing Godswill Akpabio for the Senate President position and Tajudeen Abbas for Speaker.
During the meeting, Tinubu emphasized to the opposition governors that it is traditionally the ruling party that determines leadership in the national assembly.
Therefore, they should reconsider supporting any group opposed to his preferred candidates.
The source said, "It was his first meeting with all the governors led by their chairman, Governor AbdulRazaq AbdulRahman of Kwara State, although he had met with governors of his party last Friday.
"The meeting was significant because it was across party lines. He appreciated them and told them that they are partners in progress; the elections were over and it is time to deliver promises.
"But most importantly, he sought their support in the selection of leaders of the National Assembly. He said governors are very powerful and drive enormous respect from legislators from their state.
"It is based on this that he pleaded that they should curry support from their respective legislators in order to have a rancour-free 10th National Assembly.
"Besides, he reminded the governors that by convention, it is always the ruling party that produces the presiding officers of the National Assembly and therefore advised those from the opposition party not to support any move by any group that might attempt to decapitate the convention."