Buhari's Eight Years In Power Was A Disaster – Jonathan's Ex-Aide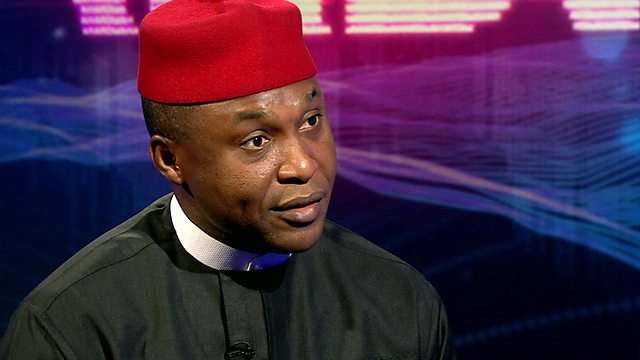 Nigeria's former Minister of Aviation under President Goodluck Ebele Jonathan's administration, Osita Chidoka, has described as a disaster the eight years of former President Muhammadu Buhari's administration.
Naija News reports that Buhari handed over power to President Bola Tinubu on Monday, May 29, 2023, having served two terms in office.
In a post on his Twitter page shortly after power changed hands, Chidoka said Nigeria lost many values under Buhari.
Chidoka wrote, "President Buhari destroyed every fibre of our national consensus, destroyed our pride of place in the comity of nations, damaged our collective desire to live in peace within our diversity, and reversed the economic progress of the democratic era. President Buhari was simply a disaster of unimaginable proportions."
Naija News understands that Buhari has been widely criticised for failing in almost all sectors leaving the country in insecurity, debts, inflation and unemployment.
His defenders have, however, maintained that the former president achieved a lot in power. In his last Federal Executive Council (FEC) meeting last week, Buhari asked his cabinet members to be proud that they did their best for the country.
Meanwhile, former presidential aide, Reno Omokri, has berated individuals castigating Katsina residents for celebrating the arrival of Muhammadu Buhari.
He argued that such a move indicates the mental laziness and double standards of some individuals.
Speaking via Instagram, the political analyst pointed out that when the Labour Party presidential candidate, Peter Obi, was the governor of Anambra, hundreds of young males were killed and their bodies were thrown in a river yet Anambra indigenes gave him 97 per cent of their votes during the 2023 elections.
He insisted that if people did not condemn Anambra indigenes for their support despite the dire incident that occured during Obi's tenure, then it was unrealistic to condemn Katsina for receiving Buhari who built universities, railways, roads, hospitals, and other projects in Katsina.
He wrote, "Castigating Katsina people for celebrating General Buhari shows the mental laziness and double standards of some of us. Anambra had the most extrajudicial killings under Peter Obi. Research it. Hundreds of young Anambra males were killed, and their bodies were dumped in the Ezu River under Obi.
"Yet, Anambra people still celebrate Peter Obi, who saved their money in his personal bank to earn interest for him rather than build infrastructure for them. They not only celebrated Obi, but they also gave him an astonishing 97% of their votes during #NigerianElections2023.
"If we did not condemn that, why are we acting like Katsina people are intellectually inferior for celebrating a man who built more infrastructure for them than anyone living or dead?
"Buhari built universities, railways, roads, hospitals, and other projects in Katsina. Name just one school Obi built in Anambra. If you can't, then what do we call you?"