What Tinubu's Swearing-in Will Do To Me – Peter Obi Opens Up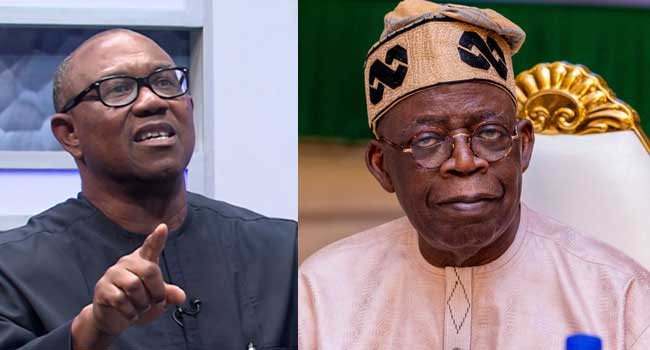 The Labour Party (LP) presidential candidate, Peter Obi has declared that the inauguration of Bola Tinubu as the President of Nigeria would strengthen him.
He made the submission on Sunday while speaking during a Twitter spaces session.
Naija News recalls Tinubu defeated Obi and other candidates at the February 25 presidential elections in Nigeria but the Labour Party candidate disagreed with the election results as declared by the Independent National Electoral Commission (INEC) and has vowed to reclaim his 'stolen mandate' at the tribunal.
Speaking during the Twitter event just a few hours before the Monday, May 29th inauguration of Tinubu as the new President of Nigeria, Obi stated that he is not giving up or backing down on his resolve to secure "his mandate."
He added that he is very much aware that it is going to be a long battle but he remains focused and won't give up.
Obi however urged his followers and supporters not to give up, but continue praying for Nigeria and do the right thing always.
In his words, "I didn't start this journey in a single day; I knew it's not going to be easy. The inauguration will strengthen me."
"I know how dampened you are that your effort did not come the way you wished. We are in a battle with an entrenched establishment. We are in a long battle. Even me, I know that the journey ahead is tough; they will make allegations, blackmail, and all sorts of things, but I am ready.
"I thank you for your sacrifice and I ask that you do not feel dampened. Thanks for the sacrifice; thanks for being part of this greatness.
"Please as we go through this pain, let us stay together. Let us do the right thing. Nobody can claim to be a saint, I am not. I could have done something unknowingly in the past. "I plead that you stay focused. This is about transformation which takes time."