Protest Hits FCT As Health Workers Threaten Strike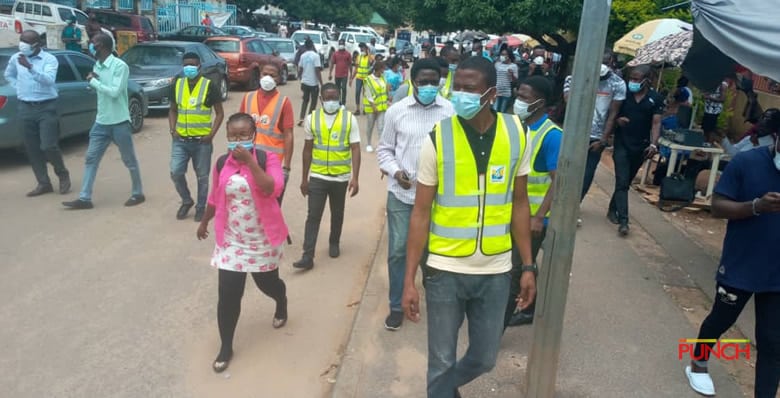 Health Workers under the aegis of the Joint Health Workers' Union have hit the street in the Federal Capital Territory (FCT), Abuja to protest their unpaid allowances.
Naija News gathered from The Punch that the health workers have threatened to embark on an indefinite strike from midnight of Wednesday if the Federal Government does not meet their demand.
It was learnt that part of their demands includes payment of hazard allowance, and an adjustment in the Consolidated Health Salary Structure as done with the Consolidated Medical Salary Structure.
They are also demanding an end to the discrimination in the health industry among others.
The development comes about three days after resident doctors suspended their five-day warning strike.
The National Association of Resident Doctors (NARD) suspended its five-day nationwide warning strike following an agreement with the Federal Government.
Naija News reports that the National President of NARD, Dr Emeka Orji, stated that the strike was called off following the promise that the association's demands would be addressed.
Orji said work resumes Monday in all Federal and State Teaching Hospitals as well as other hospitals where resident doctors are trained.
He said: "Strike has been suspended and work resumes at 8 a.m., tomorrow (today). Progress made will be reviewed on June 2. 2023, during our general meeting where the next line of action will be decided."
Recall that the doctors under the auspices of NARD began a five-day warning strike in public health facilities across the federation last week Wednesday.
Some of the demands of the doctors include the immediate massive recruitment of clinical staff in the hospitals and the abolishment of the bureaucratic limitations to the immediate replacement of doctors and nurses who leave the system.
Others are the immediate infrastructural development in public hospitals with a subsequent allocation of at least 15 per cent of the budgetary provisions to health in line with the Abuja declaration of 2001 and immediate increment in the Consolidated Medical Salary Structure, CONMESS, to the tune of 200 per cent of the gross salary of doctors among others.