Thugs Invade Benue Assembly, Lawmakers Oppose Ortom's Pension Bill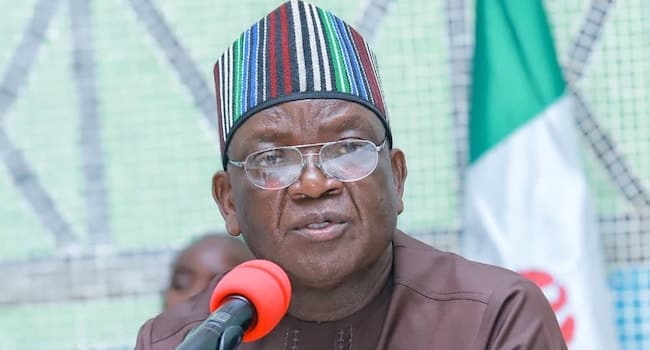 In an unexpected turn of events, political agitators seized control of the Benue State House of Assembly complex in Makurdi on Thursday, subjecting lawmakers to harassment and vandalizing their vehicles.
The aggressors are believed to be targeting legislators who have opposed the resumption of legislative sessions.
According to Punch, the lawmakers had previously suspended plenary sessions to express their dismay over six months of unpaid salaries and three months of overdue overhead allowances.
The suspension of plenary activities has had significant repercussions, primarily on a contentious executive pension bill put forward by outgoing Governor, Samuel Ortom.
The bill aims to secure pensions, gratuity, and other benefits for former governors and their deputies.
An anonymous legislative member that spoke with the platform disclosed on May 9, "December 2022 salary has not been paid to us, lawmakers, not to mention January, February, March, and April this year. It's been six months now. The House is also owed three months of overhead. That's why we have stopped working on the pension bill. We have suspended sitting until all our emoluments are paid."
Early Thursday morning, the aforementioned agitators reportedly stormed the Assembly complex and assumed control of its security.
Terkaa Ucha, the representative for the Tiev state constituency, revealed that he narrowly avoided a planned assault by fleeing the complex.
Ucha, also the Chairman House Committee on Education, reported that 17 out of the 30 members were present when the agitators disrupted the plenary.
He explained, "The bill that was referred to my committee to work on was forcefully retrieved from my secretary; they intimidated him and asked him to bring the bill without my consent."
Addressing the pending pension bill, Ucha expressed doubt about its passage, questioning Governor Ortom's commitment to pensions.
He said, "He cannot pass that bill in Benue State. If he is pension-friendly, we will know because my mother is a pensioner and my father died a pensioner."
Tertsea Gbisea, Chairman of the House Committee on Information, also confirmed the attack, noting that the agitators had disrupted proceedings and halted the progress of legislative bills.
He reassured that the controversial pension bill had not been passed, emphasizing the legislative process's complexity.
Gbisea also lamented the harassment of lawmakers, confirming that one legislator's car had been damaged.
He revealed, "I think they were just political thugs; up till now, we don't know who sent them or what their mission was. The security agencies have been alerted and an investigation will be carried out so that we can know who they were, who sent them, and what their mission was."